DKD HELIOS Clinic Wiesbaden
Department of Stem Cell Transplantation and Bone Marrow Transplantation (

25815

)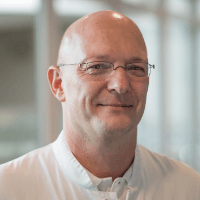 Dr. med.
Arne Brecht
Specialized in: stem cell transplantation, bone marrow transplantation
About the department
The Department of Stem Cell Transplantation and Bone Marrow Transplantation at the DKD HELIOS Clinic Wiesbaden offers the full range of services in these focuses. The department's scope of tasks includes not only allogeneic and autologous transplantation, but also preparation for procedures, follow-up care, treatment of complications related to transplantation, such as the chronic "graft-versus-host" disease (GVHD). The department is headed by Dr. med. Arne Brecht
Patients are treated in close cooperation with the Department of Hematology, Oncology and Palliative Care, which ensures comprehensive care with the involvement of all necessary specialists. For the follow-up care after transplantation, the department has a specialized outpatient clinic (since December 1, 2017).
The service range of the outpatient clinic includes:
Follow-up care after allogeneic and autologous transplantation
Medical care in case of complications and urgent clinical situations
Special diagnostics after transplantation (for example, bone marrow, cerebrospinal fluid testing and infection tests)
Therapy after allogeneic transplantation (for example, blood transfusion, systemic and intrathecal therapy)
Therapy for acute and chronic GVHD
Prescription of necessary drugs
Care of patients participating in clinical trials
Other medical services
Photo of the doctor: (c) DKD Helios Klinik Wiesbaden
Department of Stem Cell Transplantation and Bone Marrow Transplantation.
DKD HELIOS Clinic Wiesbaden:

Request more information now.
We will be happy to answer all your questions.
---