DKD HELIOS Clinic Wiesbaden
Department of Angiology and Cardiology (

25816

)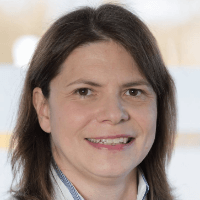 Dr. med.
Martina Lukas
Specialized in: angiology, cardiology
About the department
The Department of Angiology and Cardiology at the DKD HELIOS Clinic Wiesbaden offers the full range of services in these fields. The department specializes in the diagnostics and treatment of the diseases of blood and lymphatic vessels, as well as heart function disorders. Patients are treated by the best doctors, who have the profound medical knowledge, a rich clinical experience, as well as work on the state-of-art equipment and apply innovative treatments. The Head of the department is Dr. med. Martina Lukas.
The service range of the department includes:
Angiology
Diagnostics of diseases of blood and lymphatic vessels
Early detection of atherosclerotic changes in the vessel wall
Assessment of the patient's condition and provision of recommendations on treatment in obliterating arterial disease
Diagnostics of inflammatory vascular disease (vasculitis) and microcirculatory disorders (for example, Raynaud syndrome, endovasculitis)
Diagnostics and treatment of acute thrombosis or phlebitis
Diagnostics of postthrombotic changes and varicose veins
Diagnostics of edema (for example, chronic venous insufficiency, lymphedema, etc.)
Other diagnostic and therapeutic services
Cardiology
Cardiac examinations

Stress ECG
Heart ultrasound (echocardiography)
Stress ultrasound
Ultrasound examination of the neck vessels (duplex sonography)
Long-term ECG recording (from 24 to 72 hours)
Long-term blood pressure measurement
Schellong test
Other examinations

Diagnostics of dyspnea
Diagnostics of extrasystole
Diagnostics of tachycardia
Detection of causes of chest pain
Detection of causes of fainting and dizziness
Care and monitoring of patients with pacemakers and defibrillators
Preventive examinations for the identification of risk factors for the development of cardiovascular diseases
Other diagnostic options
Photo of the doctor: (c) DKD Helios Klinik Wiesbaden
Department of Angiology and Cardiology.
DKD HELIOS Clinic Wiesbaden:

Request more information now.
We will be happy to answer all your questions.
---