DKD HELIOS Clinic Wiesbaden
Department of Ophthalmology (

25817

)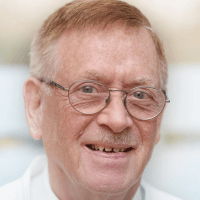 Dr. med.
Helmut Rockert
Specialized in: ophthalmology
About the department
The Department of Ophthalmology at the DKD HELIOS Clinic Wiesbaden offers the full range of services in the field of diagnosis and treatment of eye diseases. The department is headed by Dr. med. Helmut Rockert.
The department is a modern medical facility fitted out with the cutting-edge operating microscopes, laser devices and other specialized equipment from the world's leading manufacturers. Thanks to the high competence of the doctors of the department, it treats congenital and acquired ophthalmic pathologies, injuries and infectious diseases, as well as age-related changes.
The service range of the department covers the following diagnostic and therapeutic options:
General ophthalmic examination (including screening for detecting cataract, glaucoma and ophthalmologic complications of diabetes mellitus)
Diagnosis of retinal (macular) diseases with the help of optical coherence tomography (OCT)
Laser therapy for the treatment of age-related macular degeneration
Early detection of risk factors for early or open glaucoma
Differential diagnosis in complex eye diseases
Control of the side effects of drugs in drug therapy for ophthalmic diseases
Selection of glasses in ophthalmic diseases
Intraocular pressure measurement
Evaluation of visual field
Strabismus diagnostics
Examination and measurement of the thickness and structure of the cornea
Other diagnostic and therapeutic services
Photo of the doctor: (c) DKD Helios Klinik Wiesbaden
Department of Ophthalmology.
DKD HELIOS Clinic Wiesbaden:

Request more information now.
We will be happy to answer all your questions.
---