DKD HELIOS Clinic Wiesbaden
Department of Surgery and Coloproctology (

25818

)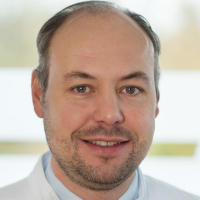 Prof. Dr. med.
Nils Habbe
Specialized in: surgery, coloproctology
About the department
The Department of Surgery and Coloproctology at the DKD HELIOS Clinic Wiesbaden offers the full range of modern diagnostics and treatment in these focuses. Specialization covers all operations in the field of colorectal surgery, as well as therapy for proctologic diseases. The department began its activities back in 1972, therefore it has rich traditions and colossal experience, which allows to find optimal solutions even in the most difficult clinical situations. The department is headed by Prof. Dr. med. Nils Habbe.
It should be noted that the department is equipped with state-of-the-art imaging equipment, which guarantees the most accurate diagnostics. Diagnostics and treatment necessarily involve specialists from the related disciplines. Thus, the patient receives a comprehensive medical care with due consideration of the smallest details, individual needs and wishes.
Also, the department has in its arsenal a number of modern surgical techniques: minimally invasive surgery (mainly used for the treatment of diseases of the small and large intestine, gall bladder, cecum, inguinal hernias, adhesions and the introduction of peritoneal dialysis catheters), transanal endoscopic microsurgery (TEM), for example, in rectal polyps and small tumors, modern laser procedures, the Koblandin-Longo procedure for the treatment of hemorrhoids, LigaSure technique and many others.
The main clinical focuses of the department include:
Diagnostics

Special proctological examination with functional diagnostics
Diagnosis of incontinence causes
Functional diagnosis of the colon
Detection and staging of malignant colon tumors
Endoscopy/colonoscopy: examination, removal of polyps, biopsy, diagnostics of inflammatory bowel diseases
Other diagnostic options

Treatment

Surgery to treat pelvic floor dysfunction with rectal prolapse, fecal and urine incontinence
Sphincter-preserving rectal resection, including transanal ones in rectal prolapse
Transanal endoscopic microsurgery
Most sparing interventions to treat chronic and inflammatory bowel diseases
Surgical closure of the stoma
Transanal rectal interventions with S.T.A.R.R./Trans-S.T.A.R.R method, Rehn-Delorme and perineal rectal resection
Sparing minimally invasive interventions, Nd: YAG procedures
Sphincter reconstruction or replacement (Gracilis plastic surgery, artificial sphincter installation)
Sacral nerve stimulation in neurogenic fecal incontinence
Surgical interventions to treat anal fistulas with plastic surgery for closing fistulas
Hemorrhoids surgery (LigaSure technique (collagen sealing), Ultracision (harmonic scalpel), anal canal plastic surgery)
Laparoscopic minimally invasive interventions to install catheters for peritoneal dialysis
Outpatient interventions
Biofeedback therapy in weakness of the sphincter and other pathological conditions
Treatment with ligation latex rings (on an outpatient basis)
Other therapeutic options
Photo of the doctor: (c) DKD Helios Klinik Wiesbaden
Department of Surgery and Coloproctology.
DKD HELIOS Clinic Wiesbaden:

Request more information now.
We will be happy to answer all your questions.
---