DKD HELIOS Clinic Wiesbaden
Department of Endocrinology and Diabetology (

25820

)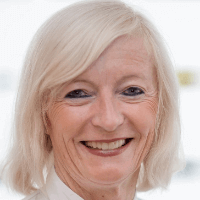 Dr. med.
Cornelia Jaursch-Hancke
Specialized in: endocrinology, diabetology
About the department
The Department of Endocrinology and Diabetology at the DKD HELIOS Clinic Wiesbaden offers the full range of medical services in the fields of its competence. The doctors of the medical facility specialize in the treatment of hormonal imbalances, metabolic disorders, obesity and diabetes mellitus. An important clinical focus is on nutritional counseling and lifestyle recommendations for the patients with diabetes mellitus, hypertension and obesity. The department's medical team is proud of excellent results in the field of hormone replacement therapy in elderly patients, as well as in patients with adrenal diseases, osteoporosis and thyroid diseases. The doctors working in the department follow the current clinical protocols and apply modern treatment methods, which contributes to the achievement of the desired treatment results. The Chief Physician of the department is Dr. med. Cornelia Jaursch-Hancke.
The department's endocrinologists admit patients with all pathologies of the endocrine organs, including the thyroid gland, parathyroid glands, adrenal glands and pituitary gland. The specialists provide only conservative treatment. If the patient needs a surgical intervention, the surgeons from the Department of Endocrine Surgery will be involved in the therapeutic process. Endocrine cancers are treated in collaboration with oncologists, radiation therapists and chemotherapists. The department's medical team prefers an integrated approach to treatment that combines drug therapy, diet therapy, physiotherapy and hormone replacement therapy (if clinically indicated). The required complex of therapeutic measures is selected strictly individually. The doctors working in the department focus on the patients with impaired pituitary function, goiter, hyperthyroidism, hypothyroidism, thyroiditis, osteoporosis, osteopenia, arterial hypertension, lipid metabolism disorders, etc.
The department's team of diabetologists has been taking care of the health of patients with diabetes mellitus since 1994. During this time, the medical facility has treated more than 3,000 patients. Diabetes mellitus is an incurable disease, and therefore the main task of doctors is to control its course in order to prevent the progression and development of complications. The classic treatment regimen consists of insulin therapy or taking oral antidiabetic drugs, diet therapy and physical activities. Particular attention is paid to teaching patients to live with pathology, and therefore the department conducts 3 special training courses. The first focuses on diet therapy and oral antidiabetic drugs, while the second focuses on insulin therapy. The third one is devoted to intensive insulin therapy. The department holds many individual consultations, during which the attending physician personally communicates with the patient and tells him about further therapeutic measures.
The department's range of medical services includes:
Endocrinology

Diagnostics and treatment of pituitary diseases

Hormonally active pituitary adenomas (Cushing's disease, prolactinoma, acromegaly)
Hormonally inactive pituitary adenomas (craniopharyngioma)
Pituitary insufficiency of various origins
Central diabetes insipidus
Growth hormone deficiency

Diagnostics and treatment of thyroid diseases

Autoimmune diseases
Endocrine ophthalmopathy
Goiter
Thyroid cancer
Hyperthyroidism
Hypothyroidism
Thyroiditis

Diagnostics and treatment parathyroid diseases

Hyperparathyroidism
Hypoparathyroidism

Diagnostics and treatment of disorders of of calcium and phosphorus metabolism
Diagnostics and treatment of osteopenia and osteoporosis
Diagnostics and treatment of vitamin D deficiency and its complications
Diagnostics and treatment of Paget's disease
Diagnostics and treatment of adrenal diseases

Adrenal adenomas (hormonally active and inactive)
Adrenal cancer
Addison's disease
Adrenogenital syndrome
Pheochromocytoma

Diagnostics and treatment of endocrine diseases of the pancreas
Diagnostics and treatment of hormone-producing tumors (vipoma, insulinoma)
Diagnostics and treatment of hypoglycemic conditions
Diagnostics and treatment of multiple endocrine neoplasia types I and II
Diagnostics and treatment of metabolic disorders
Diagnostics and treatment of hirsutism
Diagnostics and treatment of obesity due to endocrine disorders
Diagnostics and treatment of lipid metabolism disorders
Diagnostics and treatment of polycystic ovary syndrome

Diabetology

Diabetes mellitus type 1 and 2
Gestational diabetes mellitus

Pharmacotherapy with oral antidiabetic drugs
Insulin therapy, including pump therapy
Consultations on nutrition and lifestyle modification

Diagnostics and treatment of other diseases
Curriculum vitae
​Higher Education
1976 - 1983 Study of Human Medicine at the Universities of Duesseldorf and Bonn.
19.05.1983 Admission to medical practice.
21.09.1983 Doctoral thesis defense, University of Bonn.
Professional Career
1984 - 1986 Research Assistant, Institute of Clinical Biochemistry at the University of Bonn, focus on Neuroendocrinology.
1986 - 1992 Assistant Physician, Department of Internal Medicine II, Hospital Cologne-Merheim, and Department of Internal Medicine at the DKD HELIOS Clinic Wiesbaden.
09.11.1992 Board certification in Internal Medicine.
01.01.1993 Physician at the DKD HELIOS Clinic Wiesbaden.
Since 01.01.1994 Head of the Department of Endocrinology and Diabetology at the DKD HELIOS Clinic Wiesbaden.
Research and Teaching Interests
Pituitary and adrenal diseases.
Osteoporosis.
Reproductive disorders.
Diabetes mellitus.
Growth hormone therapy.
Age-related androgenic deficiency.
Memberships in Professional Societies
Professional Association of German Internists.
German Society of Endocrinology.
German Diabetes Society.
German Society of Internal Medicine.
American Association of Clinical Endocrinology.
Photo of the doctor: (c) DKD Helios Klinik Wiesbaden
Department of Endocrinology and Diabetology.
DKD HELIOS Clinic Wiesbaden:

Request more information now.
We will be happy to answer all your questions.
---
Certificates