DKD HELIOS Clinic Wiesbaden
Department of Hemostaseology (

25824

)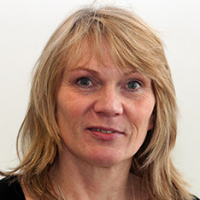 Dr. med.
Manuela Krause
Specialized in: hemostaseology
About the department
The Department of Hemostaseology at the DKD HELIOS Clinic Wiesbaden deals with the diagnosis and treatment of congenital and acquired coagulation disorders. Of particular interest are pathologies, such as thrombosis and hemophilia. The department has a modern Laboratory for Coagulation Disorder Diagnosis, the specialists of which provide a comprehensive and the most accurate diagnosis of all diseases in this field. The Chief Physician of the department is Dr. med. Manuela Krause.
The service range of the department includes:
Diagnosis and treatment of diseases that cause predisposition to bleeding

Haemophilia A and B
Von Willebrand disease
Coagulation factor deficiency
Platelet dysfunction, including platelet dysplasia due to certain drugs
Diagnosis of the causes of intense or poor menstrual bleeding
Other pathologies

Diagnosis and treatment of thrombosis

Detection and elimination of congenital and acquired risk factors for thrombosis, pulmonary embolism, myocardial infarction and stroke
Interdisciplinary monitoring of women after miscarriages, pre-eclampsia and intrauterine growth retardation
Anticoagulant therapy optimization, for example, with the help of vitamin K antagonists or anticoagulants of a new generation

Other diagnostic and therapeutic options
Photo of the doctor: (c) DKD Helios Klinik Wiesbaden
Department of Hemostaseology.
DKD HELIOS Clinic Wiesbaden:

Request more information now.
We will be happy to answer all your questions.
---