DKD HELIOS Clinic Wiesbaden
Department of Pediatric and Adolescent Medicine (

25826

)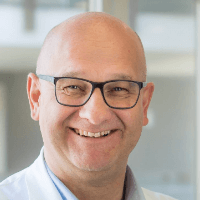 Prof. Dr. med.
Markus Knuf
Specialized in: pediatric and adolescent medicine
About the department
The Department of Pediatric and Adolescent Medicine at the DKD HELIOS Clinic Wiesbaden offers diagnosis and treatment of a wide range of diseases in children and adolescents. The department specializes in the treatment of both congenital and acquired diseases of the kidneys, endocrine glands, gastrointestinal tract, lungs and respiratory tract, rheumatic and neurological diseases, etc. Thanks to a long experience and the very latest diagnostic and treatment methods available, a competent team of specialists ensures an optimal treatment of young patients. The Chief Physician of the department is Prof. Dr. med. Markus Knuf.
In addition to a wide range of treatment of somatic diseases, the department's scope of tasks includes pediatric and adolescent psychology, as well as the diagnosis and treatment of diseases caused by the combined effects of mental, physical and social factors (psychosomatic disorders).
In each of the department's specialization areas, its doctors offer accurate diagnosis, identification of the causes of the disease, effective treatment that meets the international European recommendations, as well as follow-up and, if necessary, special trainings.
The department offers diagnosis and treatment of the following diseases:
Chronic inflammatory bowel diseases
Functional disorders of the gastrointestinal tract (including dysphagia, constipation, encopresis)
Short bowel syndrome
Chronic liver diseases (including hepatitis B and C, congenital disorders of copper metabolism, care for patients with liver transplantation)
Diseases of joints, muscles and connective tissues (rheumatic diseases)
Celiac disease
Obesity (including long-term follow-up, individual and group training)
Congenital kidney and urinary tract malformations
Functional bladder disorders, bladder training, including biofeedback therapy
Chronic inflammatory vascular disease
Bronchial asthma
Neurodermatitis (atopic eczema)
Allergies and food intolerance
Type 1 Diabetes Center (manifestation, long-term follow-up, treatment of acute complications, revision of treatment tactics, including setting up an insulin pump, age-adapted trainings for children and parents)
And other diseases
Curriculum vitae
1985 - 1992 Study of Human Medicine at the Johannes Gutenberg University Mainz.
Since 1992 Assistant Physician in the Department of Pediatrics at the Johannes Gutenberg University Mainz.
1993 Doctorate.
Since 1997, Medical Specialist in Pediatrics.
1997 Emergency Physician (Neonatology).
2001 - 2009 Medical Specialist in Pediatrics and Adolescent Medicine, as well as a Senior Physician at the Johannes Gutenberg University Mainz.
2007 Habilitation. Subject: "Evaluation of new vaccines for innovative vaccination strategies".
Since August 2009, Professor, Pediatric Infectology and Pediatric Intensive Care, University Hospital Mainz.
Since September 2009, Head of the Department of Pediatric and Adolescent Medicine at the DKD Helios Clinic Wiesbaden.
Special Areas of Activity and Memberships
Pediatric Intensive Care, Neonatology, Neuropediatrics.
Diploma of the German Society for Pediatric Infectology (DGPI) "Pediatric Infection".
Additional qualification in the field of Infectiology.
Member of the Society of Clinical Neurophysiology.
National and international publications, lectures and presentations.
Participation in the training of university students (lectures, seminars).
Since 1993 School for Childcare (Neuropediatrics).
Since 1997, Specialized Nursing School, Pediatric Intensive Care (Neuropediatrics, Immunology), including position of Examiner.
"Good Clinical Practice (GCP)" training course.
Member of the ESPED Data Safety Monitoring Board.
Review Activities in Medical Journals:

Klinische Pädiatrie.
Wiener Klinische Wochenschrift.
Archives of Diseases in Childhood.
Scandinavian Journal of Infectious Diseases.
Drugs of Today.
Vaccine.
Swiss Medical Weekly.
Infection.
Others
Photo of the doctor: (c) DKD Helios Klinik Wiesbaden
Department of Pediatric and Adolescent Medicine.
DKD HELIOS Clinic Wiesbaden:

Request more information now.
We will be happy to answer all your questions.
---