DKD HELIOS Clinic Wiesbaden
Department of Pediatric and Adolescent Medicine (

25826

)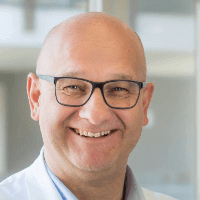 Prof. Dr. med.
Markus Knuf
Specialized in: pediatric and adolescent medicine
About the Department of Pediatric and Adolescent Medicine at DKD HELIOS Clinic Wiesbaden
The Department of Pediatric and Adolescent Medicine at the DKD HELIOS Clinic Wiesbaden offers the full range of services for the diagnostics and treatment of various diseases in young patients. The focus is on the children with inflammatory bowel disease, short bowel syndrome, chronic liver diseases, celiac disease, congenital malformations of the kidneys and urinary tract, type 1 diabetes mellitus and other pathologies. The department's specialists have at their disposal state-of-the-art diagnostic equipment for a comprehensive assessment of the health status of children. The medical facility has modern laboratories, an endoscopy unit for both diagnostic and therapeutic procedures, as well as diagnostic rooms with advanced devices for imaging studies, including X-ray, ultrasound and MRI. The doctors working in the department care not only about high-quality medical care, but also about the fact that young patients feel as comfortable as possible during treatment. The specialists also devote enough time to personal communication with parents so that they clearly understand what kind of disease their child is suffering from, and what effective methods are recommended for treatment. The department is headed by Prof. Dr. med. Markus Knuf.
Pediatric gastroenterologists working in the department provide comprehensive diagnostics and treatment of diseases of the digestive tract and liver. Of particular interest is medical care for children with Crohn's disease and ulcerative colitis, short bowel syndrome, celiac disease and chronic liver pathologies, including hepatitis B and C. At the stage of diagnostics, the specialists conduct laboratory, instrumental and endoscopic diagnostic examinations, the results of which allow the attending physician to make an accurate diagnosis and determine the stage of the disease. The treatment regimen is elaborated for each child individually. Whenever possible, the specialists of the department use only conservative treatment, namely drug therapy with innovative drugs. In especially difficult cases, therapeutic endoscopic procedures are performed.
Children often suffer from kidney and urinary tract diseases. The department employs specialized doctors, who using a wide range of diagnostic studies (ultrasound, urodynamic tests, MR urography, etc.), identify disorders in the functioning of the kidneys and urinary system, as well as conduct effective treatment to eliminate them. In addition to taking a complex of medications, biofeedback (BFB) is used in children with impaired bladder function. The BFB technique allows restoring self-regulation of physiological functions of the body and demonstrating high efficiency in the treatment of bladder dysfunction.
Another important focus of the medical facility is the treatment of type 1 diabetes mellitus in children. The classical methods of treating pathology are diet therapy and insulin therapy. The department also provides insulin pump therapy, which makes the child's life much easier. An insulin pump is an electronic device that infuses insulin according to the pre-programmed individual settings. The department conducts training sessions on lifestyle modification in diabetes mellitus for both young patients and their parents. During these training sessions, the patients learn about the features of their disease and methods of its control. The young patients with type 1 diabetes mellitus are also provided with nutritional consultations, since a diet must be followed to compensate for the pathology.
The department's therapeutic offer is complemented by the treatment of allergic diseases, pathologies of the lungs and other organs of the respiratory system, morbid obesity in children. The health of young patients with these ailments is in the safe hands of the specially trained pediatricians who have many years of clinical experience. The specialists conduct a comprehensive examination, after which they prescribe the required therapeutic measures.
The department specializes in the diagnostics and treatment of the following diseases in children:
Inflammatory bowel disease (Crohn's disease and ulcerative colitis)
Functional disorders of the gastrointestinal tract (including dysphagia, constipation, encopresis)
Short bowel syndrome
Chronic liver disease (including hepatitis B and C, congenital copper metabolism disorders, care for children after liver transplantation)
Celiac disease
Morbid obesity
Congenital malformations of the kidneys and lower urinary tract
Bladder dysfunction
Chronic inflammatory joint diseases
Bronchial asthma
Atopic dermatitis (neurodermatitis)
Food allergies and food intolerances
Type 1 diabetes mellitus
Other diseases
The department's key clinical focuses include:
Diagnostics

Sonography, including functional testing
Endoscopic examinations of the esophagus, stomach, small and large intestine (gastroscopy, colonoscopy), including tissue sampling for further study (biopsy)
Percutaneous liver biopsy
Bladder and joint puncture, lumbar puncture
Endoscopic airway examinations (laryngoscopy, tracheoscopy, bronchoscopy, diagnostic bronchoalveolar lavage)
Daily pH metry
Hydrogen (H2) breath test for lactose, fructose, sorbitol, glucose intolerance to diagnose malabsorption syndrome
Instrumental diagnostics of the kidneys and urinary tract

Urodynamic tests to assess bladder function
Ultrasound examinations and computed tomography of the kidneys
Scintigraphy
Magnetic resonance urography

Instrumental diagnostics of the gastrointestinal tract

X-ray scanning
Ultrasound scanning
Magnetic resonance imaging
Magnetic resonance cholangiopancreatography

Diagnostics of the cardiovascular system

ECG, including stress ECG and daily ECG monitoring
Echocardiography
Magnetic resonance imaging
24-hour and long-term blood pressure measurement

Diagnostics of the endocrine organs

72-hour and long-term blood glucose measurement
Functional endocrine testing

Pulmonary function testing

Spirometry
Body plethysmography
Determination of NO concentration in the exhaled breath

Allergic tests, including provocation tests

Treatment

Drug treatment
Intravenous antibiotic therapy for cystic fibrosis, pyelonephritis in newborns and early childhood
Endoscopic therapeutic procedures for gastric and colon polyp removal, dilatation of gastrointestinal stenoses
Percutaneous endoscopic gastrostomy
Therapeutic bronchoalveolar lavage
Biofeedback for the treatment of bladder dysfunction
Insulin therapy, including insulin pump therapy for diabetes mellitus

Other medical services
Curriculum vitae of Prof. Dr. med. Markus Knuf
Higher Education and Professional Career
1985 - 1992 Study of Human Medicine at the Johannes Gutenberg University of Mainz.
Since 1992 Assistant Physician in the Department of Pediatric and Adolescent Medicine at the University Hospital Mainz.
1993 Doctoral thesis defense.
Since 1997 Board certification in Pediatric and Adolescent Medicine.
1997 Emergency Physician (Neonatology).
2001 - 2009 Senior Physician in the Department of Pediatric and Adolescent Medicine at the University Hospital Mainz.
2007 Habilitation. Subject: "Assessment of new vaccines in the context of the development of innovative vaccination strategies".
Since August 2009 Professor in Pediatric Infectology and Pediatric Intensive Care, University Hospital Mainz.
Since September 2009 Head of the Department of Pediatric and Adolescent Medicine at the DKD HELIOS Clinic Wiesbaden.
Other Activities
Qualifications in Pediatric Intensive Care, Neonatology and Neuropediatrics.
"Childhood Infections" Diploma of the German Society for Pediatric Infectious Diseases (DGPI).
Additional Qualification in Infectology.
Member of the Society for Clinical Neurophysiology.
National and international publications, lectures and reports.
Teaching activities (lectures and seminars for medical students).
Since 1993 Worked at a Child Care School (Neuropediatrics).
Since 1997 Worked in a specialized Nursing School, Department of Pediatric Intensive Care (Neuropediatrics, Immunology), as well as Examiner.
"Good Clinical Practice" Course.
Member of the ESPED Data Safety Monitoring Board.
Review Activities in Medical Journals
Klinische Pädiatrie.
Wiener Klinische Wochenschrift.
Archives of Diseases in Childhood.
Scandinavian Journal of Infectious Diseases.
Drugs of Today.
Vaccine.
Swiss Medical Weekly.
Infection.
Photo of the doctor: (c) DKD Helios Klinik Wiesbaden
Department of Pediatric and Adolescent Medicine.
DKD HELIOS Clinic Wiesbaden:

Request more information now.
We will be happy to answer all your questions.
---
Certificates