DKD HELIOS Clinic Wiesbaden
Department of Adult and Pediatric Urology (

25833

)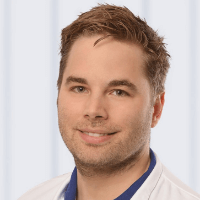 Dr. med.
Mario Domeyer
Specialized in: adult and pediatric urology
About the department
The Department of Adult and Pediatric Urology at the DKD HELIOS Clinic Wiesbaden offers the full range of services in the treatment of the urogenital system in men and boys. Endoscopic urologic surgery is a specialization of the department. The department is equipped with advanced medical equipment and focuses on the treatment of patients in accordance with the latest scientific achievements and international recommendations in the field of urology. The department is headed by Dr. med. Mario Domeyer.
Within the framework of the outpatient clinic, there are provided consultations on the prevention of urologic diseases (the specialized Helios Prevention Center), as well as medical care for patients with all urologic diseases, including the management and monitoring of patients with oncological pathology. Also, the department offers comprehensive outpatient diagnostics with the use of unique examination methods. In rare, hard to differentiate pathologies, interdisciplinary diagnostics is conducted.
The department's range of diagnostic and therapeutic services includes:
Urologic diagnostics

Special urological X-rays
Cystoscopy with flexible instruments
Bladder function testing, including video urodynamics
Transrectal ultrasound examination of the prostate
Prostate biopsy
Prostate elastography and ultrasound-guided biopsy
Kidney ultrasound
Testicular ultrasound, color dopplerography
Urodynamics
Other diagnostic tests

Endoscopic urologic surgery (access through the urethra) in bladder cancer, benign prostatic hyperplasia, pathological changes in the urethra, stones in the ureter, etc.
Special surgical interventions: sacral neuromodulation, for example, in hard to treat forms of the hyperactive bladder, Urolift (a special operation for the treatment of impaired urination in benign prostatic hyperplasia)
Urologic consultations
Prevention of urologic diseases (special diagnostic program)
Interdisciplinary diagnosis in rare or extremely severe urologic diseases
Uro-oncology (treatment of patients with urologic cancers, drug therapy for the treatment of tumors)
Diagnosis and treatment of urologic diseases in children
Andrology
Other diagnostic and therapeutic services
Photo of the doctor: (c) DKD Helios Klinik Wiesbaden
Department of Adult and Pediatric Urology.
DKD HELIOS Clinic Wiesbaden:

Request more information now.
We will be happy to answer all your questions.
---