DKD HELIOS Clinic Wiesbaden
Department of Diagnostic and Interventional Radiology (

443498

)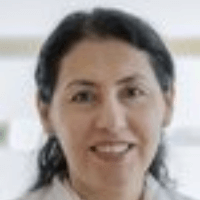 Dr. med.
Soheyla Kamkar
Specialized in: diagnostic and interventional radiology
About the department
The Department of Diagnostic and Interventional Radiology at the DKD HELIOS Clinic Wiesbaden offers all diagnostic methods of radiology in close cooperation with other medical fields. They include the whole spectrum of classic radiology with the imaging of the lungs and skeleton, as well as mammography. One of the priorities of the department is lung diagnostics. The Chief Physician of the department is Dr. med. Soheyla Kamkar.
In addition to traditional methods (for example, radiography), the department also has the very latest diagnostic capabilities. The diagnostic program is determined individually in each case . For example, in certain, special indications, contrast agents can also be used for ultrasound diagnostics. In this case, unlike the known contrast agents of X-ray and MRI diagnostics, it is a matter of small doses of a solution with gas bubbles with the size of an erythrocyte. This technology allows the doctor to analyze small vessels in tumors, blood supply to organs and better recognize possible damages.
The service range of diagnostic and interventional radiology includes the following options:
Traditional radiography
Digital radiography
Ultrasound
Computed tomography (CT)
Magnetic resonance imaging (MRI)
And other diagnostic options
Photo of the doctor: (c) DKD Helios Klinik Wiesbaden
Department of Diagnostic and Interventional Radiology.
DKD HELIOS Clinic Wiesbaden:

Request more information now.
We will be happy to answer all your questions.
---