Dr. Franz Dengler Clinic Baden-Baden
Department of Orthopedic Rehabilitation (

25810

)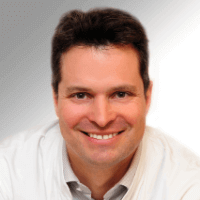 Dr. med.
Norbert Ursel
Specialized in: orthopedic rehabilitation
About the Department of Orthopedic Rehabilitation at Dr. Franz Dengler Clinic Baden-Baden
The Department of Orthopedic Rehabilitation at the Dr. Franz Dengler Clinic Baden-Baden provides the full range of classic and innovative rehabilitation measures for patients with musculoskeletal diseases and injuries, including chronic pain syndromes. In addition, an important focus of the department's doctors is on the diagnostics and treatment of bone diseases, in particular osteoporosis. The department most often admits patients with inflammatory rheumatic and degenerative musculoskeletal lesions, injuries of bones, joints and ligaments of varying severity, as well as patients after joint replacement and spinal surgeries. The department is headed by Dr. med. Norbert Ursel.
The main goal of rehabilitation treatment is to restore the patient's mobility, ensure his maximum independence in everyday life and, if possible, restore his work capacity. The patients receive treatment from the highly competent doctors with excellent qualifications and unique clinical experience, so they can count on high-quality medical care corresponding to modern European standards.
The development of the most effective rehabilitation program requires comprehensive diagnostics that allows the doctors to assess the patient's current health condition and his rehabilitation potential. Therefore, during the first consultation with the attending physician, the patient is appointed the required complex of diagnostic tests, and only after studying their results the department's doctors cooperatively think over each stage of the subsequent rehabilitation. The department has state-of-the-art diagnostic equipment, due to which the accuracy of examinations is at a high level. The department actively uses such diagnostic methods as ultrasound imaging of the joints, X-ray scanning, including functional radiography, computer-assisted balance analysis, bone mineral density measurement, 3D/4D spine and posture analysis, assessment of the functioning of the cardiovascular system, diagnostic examinations of the internal organs (if clinically indicated).
The diagnostic tests are followed by the elaboration of a rehabilitation program for the patient. Each rehabilitation treatment regimen is unique, since the therapeutic methods are selected depending on the patient's particular clinical data, his physical endurance and rehabilitation potential. As a rule, a rehabilitation program is based on therapeutic exercises, including in a swimming pool, medical training therapy, electrotherapy and massage. Some patients who have undergone complex surgical procedures on the joints and spine have to learn to walk again, and therefore the department offers special techniques for restoring walking skills. The department also has innovative computer-assisted systems for training walking and balance. An integral part of rehabilitation is occupational therapy, which aims to restore self-care and housekeeping skills. The department's rehabilitation specialists always strive to restore the patient's work capacity, especially when it comes to young people.
All rehabilitation measures are carried out under close medical supervision, which eliminates unnecessary physical strain on the patient's body and risks to his health. The department's specialists strive to involve patients in the rehabilitation process as much as possible, motivate and support them.
The department's rehabilitation specialists provide orthopedic rehabilitation for the following indications:
Musculoskeletal diseases, including inflammatory rheumatic and degenerative pathologies
Chronic pain syndromes
Pathological conditions after musculoskeletal injuries
Pathological conditions after joint arthroplasty (replacement)
Pathological conditions after spinal surgery (for example, for herniated discs, spinal stenosis)
Other diseases and pathological conditions that require orthopedic rehabilitation
The department's range of therapeutic services includes:
Pain therapy for chronic pain syndromes and severe pain after injuries or musculoskeletal surgery
Neural therapy
Therapeutic exercises (individually and in groups), including proprioceptive neuromuscular facilitation
Water therapeutic exercises (individually and in groups)
Acupuncture
Transcutaneous electroneurostimulation
Special training complexes for the restoration of walking skills after joint replacement surgery or after accidents affecting the lower limbs
Medical training therapy with the use of appropriate equipment
Electrotherapy (for example, microwave therapy, electrical stimulation, electrical muscle stimulation, galvanic baths)
Ultrasound therapy
Classic massage
Foot reflexology
Lymphatic drainage massage
Restoration of walking skills using special computer-assisted systems
Restoration of balance using special computer-assisted systems
Ergotherapy
Special training complexes for the back
Training on professional rehabilitation equipment (MOTOmed, exercise bike, etc.)
Other medical services
Curriculum vitae of Dr. med. Norbert Ursel
​Higher Education and Professional Career
Since 2017 Worked at the Ambulatory Care Center (MVZ Dr. Ursel GmbH), Baden-Baden.
Since 2014 Work in his own Private Practice in Orthopedics, Baden-Baden.
Since 2014 Medical Director of the Dr. Franz Dengler Clinic Baden-Baden.
Since 04.2005 Chief Physician of the Department of Orthopedic Rehabilitation at the Dr. Franz Dengler Clinic Baden-Baden.
1998 Doctoral thesis defense, magna cum laude. Subject: "Study of the effect of magnetic resonance imaging on animal models".
1996 - 1998 Internship, Department of Orthopedics at the St. Vincent's Hospital Karlsruhe.
1990 - 1996 Study of Medicine at the Saarland University.
06.1999 - 05.2003 Assistant Physician, Department of Orthopedics at the St. Vincent's Hospital Karlsruhe.
02.1998 - 05.1998 Work in the Department of Surgery at the St. Josef Hospital Adenau.
Board Certification
Board certification in Orthopedics.
Board certification in Orthopedics and Traumatology.
Board certification in Rehabilitation Medicine.
Additional Qualifications
Sports Medicine.
Chiropractic.
Social Medicine.
Rehabilitation Medicine.
Physical Therapy.
Balneology.
Acupuncture.
Emergency Medical Care.
Memberships in Professional Societies
German Osteology Society (DVO).
Photo of the doctor: (c) Klinik Dr. Franz Dengler GmbH & Co. KG
Department of Orthopedic Rehabilitation.
Dr. Franz Dengler Clinic Baden-Baden:

Request more information now.
We will be happy to answer all your questions.
---
Certificates