Gastroenterology Clinic Dr. med. Christof Pfundstein Munich
Department of Gastroenterology, Hepatology and Proctology (

697714

)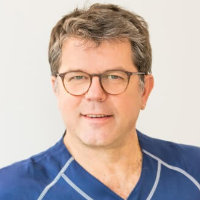 Dr. med.
Christof Pfundstein
Specialized in: gastroenterology, hepatology
About the Department of Gastroenterology, Hepatology and Proctology at Gastroenterology Clinic Dr. med. Christof Pfundstein Munich
The Department of Gastroenterology, Hepatology and Proctology at the Gastroenterology Clinic Dr. med. Christof Pfundstein Munich offers all the options of modern medicine in the areas of its specialization. The medical facility provides diagnostics and treatment for patients with diseases of the stomach, small and large intestines, esophagus, rectum, pancreas, liver, gallbladder, and biliary tract. During the initial appointment, the attending physician carefully listens to the patient's complaints, studies his anamnesis, and prescribes the necessary complex of examinations. In most cases, the diagnostic scheme includes laboratory tests, functional gastrointestinal tests, and endoscopic procedures. After the establishment of a diagnosis, the optimal treatment strategy is selected. The department's specialists have excellent professional skills in therapeutic endoscopic procedures, which today are the gold treatment standard in gastroenterology. Medical care in the department complies with DIN EN ISO 9001:2015 standards. The department is headed by Dr. med. Christof Pfundstein.
The department regularly admits patients with stomach diseases. The most common pathologies include stomach ulcers, functional disorders, and benign and malignant stomach neoplasms. If these diseases are suspected, a patient undergoes laboratory diagnostics and functional tests, and a gastroscopy, an endoscopic examination, is often required. A gastroscopy allows doctors to examine the upper gastrointestinal tract: the stomach, esophagus, and part of the duodenum. Whenever required, tissues may be taken for a further histological examination, namely a biopsy. The essence of the procedure is the insertion of a special device (a gastroscope) into the stomach through the oral cavity. Images at various zoom levels are displayed on the screen, allowing a doctor to easily detect pathological changes. The insertion of a gastroscope usually causes a strong gag reflex, so sedation is performed before the manipulation, due to which a patient sleeps and does not feel any pain or discomfort. The duration of a gastroscopy usually does not exceed 20-30 minutes. It should be noted that a gastroscopy is carried out not only for diagnosis but also for therapeutic purposes. For example, the department's doctors often use this procedure to remove benign and malignant neoplasms (in the early stages), arrest gastrointestinal bleeding, etc.
Colon diseases are common in the department's clinical practice, so the necessary resources are available to provide medical care to patients with such pathologies. A colonoscopy is an indispensable diagnostic method for suspected bowel disease. This endoscopic procedure allows the department's gastroenterologists to detect colon cancer (one of the most common and life-threatening types of oncology) at an early stage and remove the malignant tumor without resorting to traumatic, invasive interventions. The principle of a colonoscopy is similar to that of a gastroscopy: a special thin tube with an attached tiny video camera is inserted into the lower gastrointestinal tract through the anus to examine it. The procedure also takes about 30 minutes and is performed under anesthesia. A colonoscopy is indicated for patients with suspected benign or malignant colon tumors, inflammatory processes in the colon, etc. The procedure can be performed for both diagnostic and therapeutic purposes.
The department offers a capsule endoscopy, which is an excellent alternative to a classical colonoscopy. It can also be performed in addition to a colonoscopy in complex clinical cases. During the examination, a patient swallows a special capsule with one or two tiny cameras that display images of the inner surface of the intestine in multiple zooms on the screen. The main advantage of a capsule endoscopy is that the patient does not need to be sedated and remains conscious during the procedure. A capsule endoscopy is a highly informative diagnostic method since it gives the doctor the opportunity to examine hard-to-reach areas of the intestine that cannot be visualized with a colonoscopy. However, the technique also has a drawback because it can only be used for diagnostic purposes, depriving the doctor of the opportunity to sample suspicious tissues or remove a pathological focus, for example, a polyp.
Doctors at the medical facility have all of the necessary equipment to perform a capsule endoscopy with a special Bravo capsule on patients suffering from symptoms such as heartburn, difficulty swallowing, esophageal pain, and so on. The department's gastroenterologists recommend this procedure to patients with the above-mentioned symptoms, which do not improve with drug therapy. During the procedure, the esophageal pH is simultaneously determined.
The department specializes in the diagnostics and treatment of the following diseases:
Gastroenterology

Stomach diseases

Stomach ulcer
Functional gastrointestinal disorders
Stomach cancer

Esophageal diseases

Gastroesophageal reflux disease
Esophageal cancer

Small intestine diseases

Small bowel ulcer
Small bowel diverticula
Small bowel polyps
Vascular malformations of the small intestine

Large intestine diseases

Colon polyps
Colon cancer
Diverticular colon disease
Colon inflammation (colitis)
Functional colon disorders

Pancreatic diseases

Acute and chronic pancreatitis
Pancreatic cancer

Hepatology

Liver diseases

Hepatitis
Cirrhosis
Alcoholic and toxic liver lesions
Benign and malignant liver tumors

Gallbladder and biliary tract diseases

Gallstone disease
Cholecystitis
Cholangitis
Bile duct obstruction
Benign and malignant neoplasms

Proctology

Diseases of the rectum, other parts of the colon and anus

Haemorrhoids
Anal fissures
Anal fistulas
Anal eczema
Anal warts
Anal cancer

Other diseases
The department's range of diagnostic and therapeutic services includes the following options:
Diagnostic services

Laboratory tests

Blood tests
Urine tests
Stool tests

Ultrasound scans
Gastrointestinal functional diagnostics

13C urea breath test
Hydrogen breath test

Endoscopic examinations

Gastroscopy
Colonoscopy
Rectoscopy
Capsule endoscopy, including with the use of a special Bravo capsule

Therapeutic services

Drug therapy
Gastroscopic interventions
Colonoscopic interventions
Proctoscopic interventions

Other diagnostic and treatment methods
Curriculum vitae of Dr. med. Christof Pfundstein
Higher Education and Professional Career
1989 - 1996 Human medicine studies, Ludwig Maximilian University of Munich.
1996 - 2000 Clinical Training in Internal Medicine: Wasserburg am Inn Clinic, Muehldorf am Inn Clinic, and Dr. Michael Schreiber Clinic in Munich.
Since 2000 Regular work as an Emergency Physician in the cities of Upper Bavaria.
2001 - 2003 Advanced training in Internal Medicine and Gastroenterology, Dr. Burlefinger Gastroenterology Private Practice in Munich.
2004 Emergency Physician at the Wasserburg am Inn and Haag Clinics, and Internist at Dr. Burlefinger Gastroenterology Private Practice in Munich.
2004 Board certification in Internal Medicine.
2005 - 2007 Physician in the Department of Internal Medicine, Intensive Care and Dietology, Starnberg Hospital.
2007 - 2008 Physician in the Department of Internal Medicine and Gastroenterology (focus on endoscopy and ultrasound scans).
2008 Specialization in Gastroenterology.
2008 - 2011 Internist and Gastroenterologist, Dr. Albert Eimiller Private Practice in Munich.
Since May 2011 Gastroenterologist at Arabella Hospital.
2011 - 2013 Study of Business Administration in Healthcare at the University of Erlangen-Nuremberg.
6 May 2013 Opening of the

Gastroenterology Clinic Dr. med. Christof Pfundstein Munich

..
August 2013 Master of Health Business Administration (MHBA), University of Erlangen-Nuremberg.
Photo of the doctor: (c) Gastroenterologie München Bogenhausen Dr. med. Christof Pfundstein & Kolleglnnen
Department of Gastroenterology, Hepatology and Proctology.
Gastroenterology Clinic Dr. med. Christof Pfundstein Munich:

Request more information now.
We will be happy to answer all your questions.
---