Gaziosmanpasa Hospital of Yeniyuzyil University
Department of Hematology and Bone Marrow Transplantation (

534987

)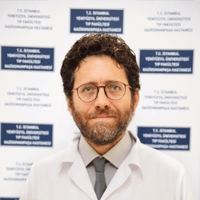 Dr. med.
Serkan Güvenç
Specialized in: hematology, bone marrow transplantation
About the Department of Hematology and Bone Marrow Transplantation at Gaziosmanpasa Hospital of Yeniyuzyil University
The Department of Hematology and Bone Marrow Transplantation at the Gaziosmanpasa Hospital of Yeniyuzyil University offers the full range of services in these field. The department has 15 beds. It is one of the largest and most reputable medical facilities, which specializes in allogeneic and autologous bone marrow transplantation. The highly qualified, experienced doctors and attentive nursing staff take care of the patient health. The department is headed by Dr. med. Serkan Güvenç.
Each room is equipped with a state-of-art monitoring system, which allows the doctor to monitor the condition of patients round-the-clock. Also, all rooms are equipped with the necessary equipment for intensive care. A feature of the department is the air purification system, which includes HEPA fans and the CFD air flow simulation technique. Thus, the department has a hybrid type of air flow, which provides the protection against airborne infections.
The department specializes in the following types of bone marrow transplantation:
Allogeneic bone marrow transplantation is performed using cells from a healthy donor (related or unrelated). Before the transplantation, it is necessary to carry out the procedure of conditioning. It usually involves the administration of high doses of chemotherapy in combination with radiation therapy or without it. This is a prerequisite for the treatment of progressive disease, as well as for the suppression of the patient's immune system and prevention of the donor cell rejection. After the transplantation, the patient requires hospitalization in special conditions (usually from 2 to 4 weeks).
Autologous bone marrow transplantation is a transplantation of the patient's own stem cells. The patient's presampled and frozen healthy bone marrow stem cells are administered to him after the high-dose chemotherapy. This allows to restore the patient's immune and hematopoietic systems in a short period of time. However, this type of bone marrow transplantation is recommended if the disease is in remission or when the disease does not affect the bone marrow. If the tumor process has affected the bone marrow, autologous transplantation is contraindicated.
The service range of the department includes the diagnostics and treatment of the following diseases:
Thalassemia
Sickle cell anemia
Aplastic anemia
Myelodysplastic syndrome
Acute and chronic lymphocytic leukemia
Acute and chronic myeloid leukemia
Hodgkin's disease
Non-Hodgkin's lymphomas
Multiple myeloma
Blood clotting disorders (including thrombocytopathy and coagulation factor deficiency)
Solid tumors
Hereditary diseases of the hematopoietic system
Myeloproliferative diseases
Immunodeficiency
Other diseases and pathological conditions
Photo of the doctor: (c) Private Gaziosmanpasa Hospital
Department of Hematology and Bone Marrow Transplantation.
Gaziosmanpasa Hospital of Yeniyuzyil University:

Request more information now.
We will be happy to answer all your questions.
---