Gaziosmanpasa Hospital of Yeniyuzyil University
Department of Adult and Pediatric Neurosurgery (

534996

)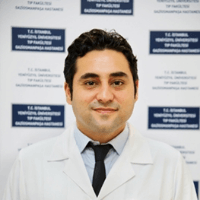 Prof. Dr. med.
Idris Sertbaş
Specialized in: adult and pediatric neurosurgery
About the Department of Adult and Pediatric Neurosurgery at Gaziosmanpasa Hospital of Yeniyuzyil University
The Department of Adult and Pediatric Neurosurgery at the Gaziosmanpasa Hospital of Yeniyuzyil University offers the full range of diagnostics and treatment of diseases of the nervous system. The department is headed by Prof. Dr. med. Idris Sertbaş.
Thanks to the excellent skills and competence of neurosurgeons, unique therapeutic methods and advanced medical equipment, the department is considered one of the best in the country. The specialists of the department take up the treatment of even extremely severe and rare pathologies of the nervous system and at the same time do everything possible to restore the health of their patients and improve their quality of life.
Neurosurgical interventions require jeweler's precision, since the nervous tissue has a very complex structure and low ability to recover. The success of the operation depends on an accurate and timely diagnosis, as well as the professionalism of surgeon. An important role is also played by the navigation and computerized systems, with the help of which surgeons achieve the optimal results. In addition, the minimally invasive techniques are widely used in clinical practice to minimize the postoperative risks, pain, and significantly reduce the hospitalization period.
The service range of the department includes:
Surgical treatment of brain diseases

Superficial and deep (benign and malignant) brain tumors
Brain abscess (craniotomy aspiration)
Tumors of the vestibular system
Lateral intraventricular tumors
Tumors of the posterior part of the cranial fossa
Hydrocephalus
Arteriovenous malformations (in collaboration with the Department of Neuroradiology)
Intracerebral, subdural and epidural hematomas
Consolidation of damaged bones in cranial fractures
Stroke
Cerebral aneurysms
Epilepsy

Surgical treatment of spinal diseases (spinal surgery)

Lumbar herniated disc (microsurgical discectomy)
Cervical herniated disc (implantation of an intradiscal graft, use of prosthetic vertebrae and intervertebral discs)
Operations in cervical and lumbar spinal stenosis
Spondylosis and vertebral stabilization surgery
Spinal cord injury surgery
Spinal cord tumors
Vertebroplasty and kyphoplasty for the spine stabilization

Pediatric neurosurgery

Treatment of meningocele
Treatment of meningomyelitis
Operations in traumatic brain injuries
Closed surgery for the spinal dysraphism (diastematomyelia, dermoid and epidermoid tumors)
Installation of shunts in premature babies with hydrocephalus
Craniosynostosis surgery (deformity of the head shape due to early fusion of the skull sutures) – trigonocephaly, brachycephaly, scaphocephaly and microcephaly

Other medical services
Photo of the doctor: (c) Private Gaziosmanpasa Hospital
Department of Adult and Pediatric Neurosurgery.
Gaziosmanpasa Hospital of Yeniyuzyil University:

Request more information now.
We will be happy to answer all your questions.
---