Gaziosmanpasa Hospital of Yeniyuzyil University
Department of Dermatology (

535044

)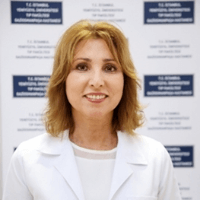 Prof. Dr. med.
Emine Derviş
Specialized in: dermatology
About the Department of Dermatology at Gaziosmanpasa Hospital of Yeniyuzyil University
The Department of Dermatology at the Gaziosmanpasa Hospital of Yeniyuzyil University offers the full range of prevention, diagnostics and treatment of diseases of the skin, hair, nails, allergic reactions, sexually transmitted diseases, as well as cosmetic problems. The Chief Physician of the department is Prof. Dr. med. Emine Derviş.
The department is equipped with the advanced medical technologies, for example, devices for computer-assisted dermoscopy, PUVA therapy, laser systems, which provide optimal treatment results. The computer dermoscopy device is used to diagnose and monitor moles, birthmarks and malignant skin tumors.
The PUVA therapy is offered in the department for the treatment of psoriasis, chronic or extensive skin diseases. Such therapy is a recognized international standard, because it has several advantages. For example, it does not require oral drug administration, it can be used during pregnancy and lactation. It is absolutely safe for children, and if used in combination with other treatment methods it increases their effectiveness and contributes to the patient's speedy recovery.
The service range of the department includes:
Laser skin treatment techniques
PUVA therapy
Moxibustion
Cryotherapy
Chemical peeling (treatment of age spots and acne)
Injections of Botox and other filling materials (fillers)
Procedures to remove ingrown nails
Computer-assisted dermoscopy
Drug therapy
Use of special gels, ointments, creams
Phototherapy
Detox treatment methods
Other medical services
Curriculum vitae of Prof. Dr. med. Emine Derviş
Education and Professional Experience
1986 School of Medicine, Trakya University.
1986 - 1991 Medical Faculty, Istanbul University, Department of Dermatology, Cerrahpaşa Hospital.
1991 - 2011 Department of Dermatology, Haseki Training and Research Hospital.
1991 - 2002 Gaziosmanpasa Hospital of Yeniyuzyil University.
2011 - 2015 Department of Dermatology, School of Medicine, Kafkas Unıversity.
Memberships
Association of Skin and Venereal Diseases.
Turkish Society of Dermatology.
Istanbul Medical Association.
Medical Interests
Psoriasis.
Nevus.
Skin tumors.
Eczema.
Allergic skin diseases.
Acne.
Hair and nail diseases.
Photo of the doctor: (c) Private Gaziosmanpasa Hospital
Department of Dermatology.
Gaziosmanpasa Hospital of Yeniyuzyil University:

Request more information now.
We will be happy to answer all your questions.
---