Gaziosmanpasa Hospital of Yeniyuzyil University
Department of Gastroenterology and Hepatology (

535053

)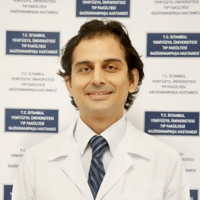 Prof. Dr. med.
Genco Gençdal
Specialized in: gastroenterology, hepatology
About the Department of Gastroenterology and Hepatology at Gaziosmanpasa Hospital of Yeniyuzyil University
The Department of Gastroenterology and Hepatology at the Gaziosmanpasa Hospital of Yeniyuzyil University offers the accurate diagnostics and effective treatment of diseases of the liver, esophagus, stomach, duodenum, colon and small intestine, anal canal. Also, the department's scope of tasks includes the therapy of diseases of the pancreas, gallbladder, and biliary tract. The patients receive medical care from the competent professionals with long experience. For diagnostic and therapeutic purposes, modern endoscopic methods are widely used to minimize pain. The Chief Physician of the department is Prof. Dr. med. Genco Gençdal.
To make an accurate diagnostics, the department carries out all the necessary modern examinations, for example, gastroscopy, esophagogastroduodenoscopy, video esophagogastroduodenoscopy, CT scan of the abdominal cavity and retroperitoneal space, esophageal manometry, capsule endoscopy, various laboratory tests, etc. Thus, the department's specialists have the opportunity to see a comprehensive clinical picture and prescribe an individual optimal treatment.
The department's range of therapeutic options includes:
Endoscopic treatment of stomach and duodenal hemorrhages
Treatment of esophageal varices
Esophageal bougienage
Gastric balloon implantation
Percutaneous endoscopic gastrostomy
Polypectomy
Treatment of functional digestive disorders
Treatment of fermentopathies
Treatment of hemorrhoid (sclerotherapy and ligation)
Treatment of gastric and duodenal ulcers
Treatment of gastritis
Treatment of jaundice
Treatment of inflammatory bowel diseases
Treatment of inflammatory gallbladder diseases and gallbladder stones
Treatment of Crohn's disease
Treatment of ulcerative colitis
Treatment of gastrointestinal cancers
Treatment of hepatitis
Treatment of cirrhosis
Treatment of rare diseases of the digestive tract and liver
Treatment of gastroesophageal reflux disease
Treatment of Barrett's esophagus
Other medical services
Curriculum vitae of Prof. Dr. med. Genco Gençdal
Education and Professional Experience
2001 Medical School, Ankara University, Bachelor's Degree.
2008 Master's Degree, Internal Medicine, Istanbul Okmeydanı EAH.
2012 Specialization in Gastroenterology.
2012 - 2015 Physician, Aydin Public Hospital.
Memberships
Turkish Society of Gastroenterology.
Turkish Liver Research Society.
Medical Interests
Gastroenterology.
Hepatology.
Liver transplantation.
Photo of the doctor: (c) Private Gaziosmanpasa Hospital
Department of Gastroenterology and Hepatology.
Gaziosmanpasa Hospital of Yeniyuzyil University:

Request more information now.
We will be happy to answer all your questions.
---