Gaziosmanpasa Hospital of Yeniyuzyil University
Department of General and Transplant Surgery (

535056

)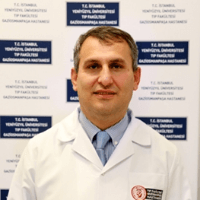 Prof. Dr. med.
Şinasi Sevmiş
Specialized in: general and transplant surgery
About the department
The Department of General and Transplant Surgery at the Gaziosmanpasa Hospital of Yeniyuzyil University offers the full range of services in these medical fields. The department's surgeons perform all modern interventions on the abdominal organs, as well as kidney, liver and pancreas transplantations. The department is headed by Prof. Dr. med. Şinasi Sevmiş, who has gained an excellent reputation not only in Turkey, but also far beyond its borders.
All the operation units of the department are equipped with the cutting-edge technology, which allows performing the most complex procedures and several surgical manipulations at the same time. The preference is always given to laparoscopic and endoscopic operations, which are marked by a greater efficiency and less trauma.
An important focus of the department is organ transplantation, in particular, kidney, liver, and pancreas transplant surgeries. Before the prescription of such operations, doctors carry out a comprehensive diagnostics, and if the organ transplantation is the only effective treatment method, the patient will be prescribed surgery. This is followed by preparation for transplantation, which takes 3-4 days. Most often, the department's specialists have to deal with kidney transplantation. Since December 2007, more than 1,300 kidney transplants have been performed here, 98% of which had a successful outcome. Consequently, the department is a leader in this field at both national and international levels.
The service range of the department includes:
Laparoscopic surgery on the gallbladder and spleen
Surgical treatment of hernias (laparoscopic and open surgical method)

Femoral hernias
Inguinal hernias
Umbilical hernias
Incisional hernias

Appendix removal
Operations on the stomach, thyroid, breast, colon and small intestine
Anorectal surgery

Treatment of hemorrhoid
Treatment of anal fissures
Treatment of anal fistulas

Surgical treatment of benign and malignant neoplasms of the entire digestive tract (laparoscopic and open surgical method)
Endocrine surgery (surgery on the endocrine glands, such as thyroid and parathyroid glands)
Surgical care in emergency clinical conditions
Kidney transplantation at the progressive stages of kidney failure
Liver transplantation
Pancreatic transplantation
Other surgical treatment methods
Photo of the doctor: (c) Private Gaziosmanpasa Hospital
Department of General and Transplant Surgery.
Gaziosmanpasa Hospital of Yeniyuzyil University:

Request more information now.
We will be happy to answer all your questions.
---