Gaziosmanpasa Hospital of Yeniyuzyil University
Department of Pediatric Cardiology (

535074

)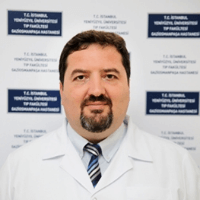 Prof. Dr. med.
Cenap Zeybek
Specialized in: pediatric cardiology
About the department
The Department of Pediatric Cardiology at the Gaziosmanpasa Hospital of Yeniyuzyil University offers the widest range of diagnostic and therapeutic services for children with congenital and acquired heart diseases. The treatment of young patients is provided in close cooperation with the Department of Pediatric Cardiovascular Surgery. Due to the excellent technical equipment, the availability of effective therapy methods and a high professionalism of doctors, the department is ranked among the top medical institutions of this kind in Turkey. The Chief Physician of the department is Prof. Dr. med. Cenap Zeybek.
The department's specialists carry out a long-term monitoring of young patients with congenital heart defects. As they grow up, they regularly undergo all the necessary diagnostic examinations in order to detect changes in their health. Should the state of health worsen, children and adolescents will undergo the optimal regimens of drug therapy to eliminate the symptomatic manifestations of the pathology, and thereby to improve their quality of life.
The service range of the department includes:
Cardiac catheterization (for both diagnostic and therapeutic purposes) in children of all age groups, including newborns
Electrocardiography
24-hour ECG monitoring
Angiography (for example, in aortic valve stenosis, congenital interatrial and interventricular septal defects)
Diagnostics and treatment of young patients with heart murmurs
Transesophageal echocardiography
Intracardiac echocardiography
Diagnostics and treatment of atrial septal defects
Diagnostics and treatment of ventricular septal defects
Diagnostics and treatment of patent arterial duct
Diagnostics and treatment of heart rhythm disorders (heart arrhythmias)
Diagnostics and treatment of inflammatory processes of the cardiac muscle and its surrounding tissues
Diagnostics and treatment of hypertension
Balloon valvuloplasty in stenosis of the aortic and pulmonary artery valves
Balloon angioplasty or stent implantation in coarctation of the aorta
Balloon atrial septostomy
Other medical services
Curriculum vitae
Education and Professional Experience
1987 - 1994 Faculty of Medicine, Hacettepe University.
1994 - 1999 Faculty of Medicine, Istanbul University, Cerrahpaşa Hospital, Department of Pediatrics (specialization).
2003 - 2008 Siyami Ersek Training and Research Hospital, Department of Pediatric Cardiology (subspecialization).
2008 - 2010 Pediatric Cardiologist, Erzurum Regional Training and Research Hospital.
2010 - 2015 Pediatric Cardiologist, Şişli Florence Nightingale Hospital.
2013 - 2015 Associate Professor in Pediatric Cardiology, Istanbul Bilim University.
2016 - 2017 Associate Professor in Pediatric Cardiology, Biruni University.
2014 - 2016 Pediatric Cardiologist, Medicana International Hospital.
Memberships
Turkish Association of Pediatrics.
Turkish Society of Pediatric Cardiology and Cardiovascular Surgery.
Turkish Society of Cardiology.
Medical Interests
Interventional cardiology.
Cardiac intensive care.
Echocardiography.
Transesophageal echocardiography.
Fetal echocardiography.
Photo of the doctor: (c) Private Gaziosmanpasa Hospital
Department of Pediatric Cardiology.
Gaziosmanpasa Hospital of Yeniyuzyil University:

Request more information now.
We will be happy to answer all your questions.
---