Gaziosmanpasa Hospital of Yeniyuzyil University
Department of Infectology (

535110

)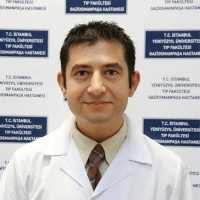 Assoc. Prof. Dr. med.
Kıvanç Şerefhanoğlu
Specialized in: infectology
About the Department of Infectology at Gaziosmanpasa Hospital of Yeniyuzyil University
The Department of Infectology at the Gaziosmanpasa Hospital of Yeniyuzyil University offers an accurate diagnostics, inpatient and outpatient treatment of all infectious diseases. Also, in order to prevent infectious diseases, the department operates the Infection Control Committee. The scope of tasks of the department's doctors includes adult vaccination, counseling and preventive vaccination in order to prevent tropical infections, as well as the treatment of sexually transmitted diseases. The Chief Physician of the department is Assoc. Prof. Dr. med. Kıvanç Şerefhanoğlu.
The department offers many diagnostic methods, which may differ depending on the expected pathogen and on the disease manifestations. However, the examinations, such as immunological, bacteriological tests and polymerase chain reaction (PCR) technique are common for all infections. Obviously, if necessary, the patient may be prescribed other diagnostic techniques. For example, in pulmonary tuberculosis, radiography, spiral computed tomography of the lungs and sputum examination are of crucial importance, while in chronic hematogenous infections, the doctors determine a viral load (quantitative analysis).
The therapeutic options of the department include various types of drug therapy, for example, treatment with antibiotics, antiviral drugs, immunomodulators, antifungal drugs, etc. In addition, the doctors of the department pay key attention to the prevention of infectious diseases, because nowadays there are many highly effective vaccines, which help the body to resist various infections.
The department provides comprehensive treatment and prevention of the following diseases:
Respiratory infections

Flu
Sore throat
Measles
Tuberculosis
Bronchitis and pneumonia

Hematogenous infections (transmitted through blood or lymph)

HIV infection and AIDS
Viral hepatitis B and C

Intestinal infections

Typhus
Dysentery
Hepatitis A
Salmonellosis

Infections transmitted by contact through the skin or mucous membranes, including sexually transmitted diseases
Infection with diseases transmitted by parasites (ticks, lice, mosquitoes)

Malaria
Crimean-Congo hemorrhagic fever

Other infectious diseases
Curriculum vitae of Assoc. Prof. Dr. med. Kıvanç Şerefhanoğlu
Education and Professional Experience
1991 - 1998 Faculty of Medicine, Marmara University.
1998 - 2003 Medical Specialization, Inönü University.
2003 - 2007 Doctor of Medicine, Başkent University.
2007 Harvard Medical School, Massachusetts General Hospital, Department of Infectology.
2007 - 2013 Associate Professor, Başkent University.
2013- 2015 Associate Professor, Istanbul Florence Nightingale Hospital.
2015 Associate Professor, Gaziosmanpasa Hospital of Yeniyuzyil University.
Medical Interests
Infections in immunosuppressed patients.
Chronic hepatitis B/C.
HIV infection.
Infections common for the elderly.
Diabetic foot infections.
Soft tissue infections.
Photo of the doctor: (c) Private Gaziosmanpasa Hospital
Department of Infectology.
Gaziosmanpasa Hospital of Yeniyuzyil University:

Request more information now.
We will be happy to answer all your questions.
---