Gaziosmanpasa Hospital of Yeniyuzyil University
Department of Oncology and Radiation Therapy (

535113

)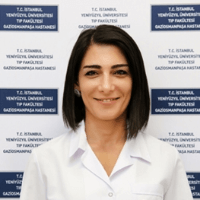 Assoc. Prof. Dr. med.
Üyesi Ayşe Okumuş
Specialized in: oncology, radiation therapy
About the Department of Oncology and Radiation Therapy at Gaziosmanpasa Hospital of Yeniyuzyil University
The Department of Oncology and Radiation Therapy at the Gaziosmanpasa Hospital of Yeniyuzyil University offers the full range of diagnostics and treatment for all oncological diseases. The department is headed by Assoc. Prof. Dr. med. Üyesi Ayşe Okumuş.
The department's doctors have in their arsenal all the modern methods against cancer, the most effective of which include chemotherapy, immunotherapy, hormonal therapy, surgical treatment, as well as all types of radiation therapy. The diagnostics is carried out using the advanced, high-precision systems, for example, CT, MRI, PET-CT, etc. Thanks to all these opportunities, the department's specialists cope with the most difficult clinical situations, saving or significantly prolonging the lives of patients.
The doctors of the department prefer a multidisciplinary treatment approach, which means the involvement of all the necessary experts from the related disciplines. Each clinical case is unique, so the treatment strategy is always developed individually, taking into account the specific clinical indications, the stage of the disease, patient's general condition, age and other important factors. In the advanced stages of cancer, the doctors do their best to slow down the progression of the disease, while in some cases, they even manage to achieve a stable remission. The importance is given to psychological care, which helps the patient and his family to cope with emotional distress in such a terrible diagnosis as cancer.
The department treats the following oncological diseases:
Malignant neoplasms of the head and neck (for example, laryngeal, oropharyngeal, tongue, salivary gland cancer)
Lung cancer
Kidney and adrenal cancer
Bladder cancer
Pancreatic cancer
Stomach cancer
Liver cancer
Small and large intestine cancer
Colorectal cancer
Oncological diseases of the male genital organs

Prostate cancer
Penile cancer
Testicular cancer

Oncological diseases of the female genital organs

Uterine cancer
Cervical cancer
Vulvar cancer
Vaginal cancer
Ovarian cancer
Endometrial cancer

Breast cancer
Malignant bone and soft tissue tumors
Skin cancer

Melanoma
Squamous cell carcinoma
Basal cell carcinoma

Malignant tumors of the central and peripheral nervous system

Brain cancer
Spinal cord cancer
Pituitary cancer

Malignant blood diseases (lymphomas, leukemias)
Other oncological diseases
The therapeutic spectrum of the department includes:
Surgical treatment (including minimally invasive and endoscopic techniques)
Chemotherapy
Hormonal therapy
Immunotherapy
Targeted therapy
Stereotactic radiosurgery
Radiation therapy

3D conformal radiation therapy
Intensity-modulated radiotherapy (IMRT)
Volumetric modulated arc therapy (VMAT)
Image-guided radiation therapy (IGRT)
Stereotactic radiation therapy

Other treatment methods
Photo of the doctor: (c) Private Gaziosmanpasa Hospital
Department of Oncology and Radiation Therapy.
Gaziosmanpasa Hospital of Yeniyuzyil University:

Request more information now.
We will be happy to answer all your questions.
---