Gaziosmanpasa Hospital of Yeniyuzyil University
Department of Nuclear Medicine (

535122

)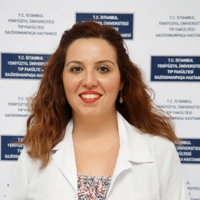 Prof. Dr. med.
Şerife Değirmencioğlu
Specialized in: nuclear medicine
About the department
The Department of Nuclear Medicine at the Gaziosmanpasa Hospital of Yeniyuzyil University offers the full range of radionuclide methods for the diagnostics and treatment of various diseases. The department is equipped with cutting-edge PET-CT systems, gamma cameras and scintigraphy devices. Of particular interest are oncological diseases of various organs, as well as heart pathologies and disorders of the neurological spectrum. The department is one of the most modern medical facilities of this kind and occupies a leading position in the national and international medical arena. The department is headed by Assoc. Prof. Dr. med. Şerife Değirmencioğlu.
The department offers the following diagnostic and therapeutic options:
Scintigraphy

Lung scintigraphy
Heart scintigraphy
Radioactive gallium scintigraphy for the diagnostics of the inflammatory processes and oncological pathology
Kidney scintigraphy
Thyroid scintigraphy
Adrenal scintigraphy
Salivary gland scintigraphy
Esophageal scintigraphy
Spleen and liver scintigraphy
Gallbladder scintigraphy
Parathyroid scintigraphy
Brain scintigraphy
Whole-body scintigraphy
Lymphatic scintigraphy
Bone scintigraphy

Combined PET-CT method

Diagnostics of multiple myeloma
Diagnostics of lymphomas and Hodgkin's disease
Diagnostics of malignant neoplasms of the salivary glands
Diagnostics of malignant tumors of the tonsils
Diagnostics of malignant tumors of the naso- and oropharynx
Diagnostics of malignant tumors of the esophagus, stomach, intestines
Diagnostics of malignant neoplasms of the bronchi and lungs
Diagnostics of melanoma

SPECT and SPECT-CT
Radioiodine therapy for the treatment of thyroid diseases

Diffuse toxic goiter
Hormonally active thyroid adenoma
Subsequent treatment after thyroid surgery

Other medical services
Curriculum vitae
Education and Professional Experience
2003 - 2009 School of Medicine, Istanbul University.
2009 - 2015 Gaziosmanpasa-Taksim Training and Research Hospital.
2015 - 2016 Demre State Hospital, Department of Internal Medicine, Ministry of Health, Union of State Hospitals in Antalya.
Memberships
Turkish Association of Internal Medicine.
Turkish Society of Cardiology.
Turkish Endocrinology Foundation.
Main Medical Interests
Diabetes mellitus.
Rheumatoid arthritis.
Systemic lupus erythematosus.
Pancreatitis.
Gastroesophageal reflux disease.
Hypertension.
Ischemic heart disease.
Chronic obstructive pulmonary disease.
And others.
Photo of the doctor: (c) Private Gaziosmanpasa Hospital
Department of Nuclear Medicine.
Gaziosmanpasa Hospital of Yeniyuzyil University:

Request more information now.
We will be happy to answer all your questions.
---