Gaziosmanpasa Hospital of Yeniyuzyil University
Department of Adult and Pediatric Plastic, Reconstructive, Aesthetic Surgery (

535134

)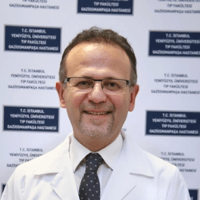 Prof. Dr. med.
Cenk Şen
Specialized in: adult and pediatric plastic, reconstructive, aesthetic surgery
About the Department of Adult and Pediatric Plastic, Reconstructive, Aesthetic Surgery at Gaziosmanpasa Hospital of Yeniyuzyil University
The Department of Adult and Pediatric Plastic, Reconstructive, Aesthetic Surgery offers the full range of modern interventions to correct congenital and acquired defects, as well as effective aesthetic procedures to improve the appearance. The Chief Physician of the department is Prof. Dr. med. Cenk Şen.
In order to achieve the optimal results, the department's specialists use classical, endoscopic, microsurgical techniques, laser systems, various drugs and chemicals. Thanks to such an extensive arsenal of options, the doctors manage not only to preserve the functionality of the organs and anatomical structures of the body, but also to achieve the excellent aesthetic results, which helps save the patient from the complexes and improve his quality of life.
The service range of the department includes the following options:
Facial asymmetry correction
Correction of the cleft lip and palate, bone defects of the head and jaws in adults and children
Auricle correction (otoplasty), as well as surgery in absence of the auricle
Syndactyly correction in children
Salivary gland surgery
Surgical correction of the facial bone and soft tissue injuries
Corrective surgery after the removal of head and neck tumors
Reconstructive breast surgery after cancer treatment
Correction of congenital abnormalities of the genital organs (for example, epispadias, hypospadias, vaginal agenesis)
Correction of the thoracic and abdominal wall defects
Corrective interventions in anomalies and traumatic injuries of the hand and foot
Reconstructive interventions after the removal of skin and soft tissue tumors
Corrective interventions in traumatic, infectious, radiation and other damage to the skin and subcutaneous adipose tissue
Surgery in congenital neoplasms, facial cleavage (rare defect)
Orthognathic surgery (correction of jaw defects)
Removal of congenital tumors, nevi, vascular malformations, hemangiomas
Gynecomastia treatment in men
Genital reconstructive surgery (genital replantation)
Hand surgery, including finger replantation (in tumors, injuries)
Reconstructive surgery in peripheral nerve lesions
Elimination of defects due to burns, including the chemical ones
Treatment of non-healing wounds (for example, trophic and diabetic foot ulcers, venous ulcers)
Aesthetic (cosmetic) procedures

Facial rejuvenation (face lift, wrinkle treatment)
Acne treatment
Eyelid surgery (blepharoplasty)
Chin augmentation or reduction (mentoplasty)
Hair transplantation
Breast augmentation, reduction, lift
Tummy tuck (abdominoplasty)
Nose reshaping (rhinoplasty)
Endoscopic lift of the forehead and face, eyebrows
Scar revision
Laser procedures (face polishing, elimination of spots and vascular "stars")
Reduction of subcutaneous adipose tissue mass (liposuction, lipectomy)

Other medical services
Photo of the doctor: (c) Private Gaziosmanpasa Hospital
Department of Adult and Pediatric Plastic, Reconstructive, Aesthetic Surgery.
Gaziosmanpasa Hospital of Yeniyuzyil University:

Request more information now.
We will be happy to answer all your questions.
---