Gaziosmanpasa Hospital of Yeniyuzyil University
Department of Diagnostic and Interventional Radiology (

535140

)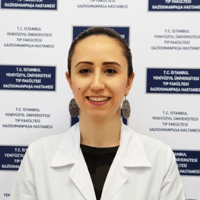 Dr. med.
Şemsi Güliz Yılmaz
Specialized in: diagnostic and interventional radiology
About the Department of Diagnostic and Interventional Radiology at Gaziosmanpasa Hospital of Yeniyuzyil University
The Department of Diagnostic and Interventional Radiology at the Gaziosmanpasa Hospital of Yeniyuzyil University offers the full range of services in this medical field. The department is fitted out with state-of-the-art medical equipment, for example, high-precision CT, MRI devices, digital angiography, mammography, X-ray examinations, etc. The competent doctors work with the patients. They are the best specialists of the country in the field of their specialization and regularly demonstrate excellent results of their clinical activities. The department is headed by Dr. med. Şemsi Güliz Yılmaz.
The diagnostic options of the department:
Classic and color doppler ultrasound examinations
Classic X-ray examinations
Digital X-ray examinations (with contrast enhancement and without it)

Intravenous urography
Voiding cystourethrography
Fistulography
Hysterosalpingography

Mammography (breast diagnostics), including the digital examination
Computed tomography (64-slice computed tomography scanner)
Magnetic resonance imaging
Densitometry (bone density measurement)
Digital fluoroscopy (for example, to examine stomach, intestines and uterus)
Angiography (vascular contrast-enhanced examination)
Other radiological examinations
The department specializes in the following therapeutic and interventional manipulations:
Balloon angioplasty and stent implantation. Restoration of the patency or expansion of the lumen of occluded or narrowed vessels by installing a balloon catheter or a stent in them.
Implantation of drains and stents into the bile ducts is a technique used to ensure the flow of bile into the intestine by restoration of the blocked bile ducts with the help of stents.
Embolization is the elimination of aneurysms, vascular deformities, haemorrhages.
Chemoembolization is a procedure, which provides direct administration of drugs through the vessels to cancer tumors.
Insertion of a central venous catheter is a procedure for implantation of a catheter for intravenous supply, administration of drugs, or dialysis.
Radiofrequency ablation is a method of using radiofrequency energy in order to destroy cancer cells.
Thrombolysis is the restoration of permeability of occluded vessels with special drugs, which dissolve blood clots.
Transjugular intrahepatic portosystemic shunting is a procedure used to treat portal hypertension. It reduces pressure in the liver vessels.
Other therapeutic services
Photo of the doctor: (c) Private Gaziosmanpasa Hospital
Department of Diagnostic and Interventional Radiology.
Gaziosmanpasa Hospital of Yeniyuzyil University:

Request more information now.
We will be happy to answer all your questions.
---