Pacemaker implantation to treat AV block Type Mobitz 2 and 3 (program ID:

584841

)
German Heart Center Berlin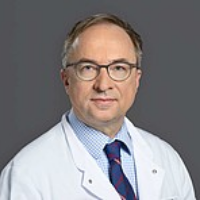 Head Physician
Prof. Dr. med.
Burkert Pieske
Specialized in: cardiology
Department of Cardiology
Program includes:
Initial presentation in the clinic
clinical history taking
physical examination
cardiac examination
laboratory tests:

complete blood count
biochemical analysis of blood
TSH-basal, fT3, fT4
tumor markers
inflammation indicators
indicators blood coagulation

measurement of arterial blood pressure
ECG, echocardiography
holter monitoring (24h)
preoperative care
pacemaker implantation
symptomatic treatment
control examinations
cost of essential medicines and materials
nursing services
full hospital accommodation
explanation of future recommendations
Price:
Type of program :
Expected duration of the program:
You may also book

Price:
About the department
According to the Focus magazine, the Department of Cardiology at the German Heart Center Berlin ranks among the top German clinics for the treatment of heart diseases!
The department offers the diagnostic and treatment services for all diseases of the heart, circulatory system and blood vessels at the highest medical level in accordance with the very latest scientific advances. The department specializes in the catheter treatment of сoronary heart disease, peripheral vascular diseases and heart arrhythmias, as well as in minimally invasive treatment of heart valve diseases and heart failure. The department also includes a specialized unit for the treatment of acute coronary syndrome and angina pectoris. The department is headed by Prof. Dr. med. Burkert Pieske.
The main focus of the department is on diagnostic and therapeutic procedures in cardiovascular diseases. These include, for example, such complex interventions as dilatation and restoration of the patency of coronary vessels, cervical vessels, arteries of the kidneys and legs, minimally invasive treatment of valvular heart disease (transcatheter aortic valve implantation, minimally invasive MitraClip procedure, valvuloplasty), implantation of a pacemakers and defibrillators, as well as the electrophysiological interventions in the treatment of heart arrhythmias.
Many patients also seek help in the department to treat concomitant diseases. A distinctive feature of the department is the extensive experience in internal medicine, which contributes to the fact that the patients with concomitant diseases, such as high blood pressure, lipid metabolism disorders, diabetes mellitus, kidney dysfunction and chronic obstructive pulmonary diseases receive the optimal treatment here.
The best quality of medical services and a high level of safety are confirmed by the number of patients being treated here. The department provides medical care for about 3,000 inpatients and also for more than 12,000 outpatients every year. The close interdisciplinary cooperation and active research activities also contribute to the achievement of the best treatment results.
The department's service range includes the following options:
Diagnostics of cardiovascular diseases

All methods for the diagnostics of acute chest pain (specialized Chest Pain Unit)
Electrocardiography (ECG)
Echocardiography (EchoCG)
CT
MRI
Catheter and electrophysiological examinations of the heart
24-hour blood pressure monitoring

Treatment of cardiovascular diseases

Hypertension treatment (Hypertension Center)
Coronary heart disease
Valvular heart diseases

Valve stenosis
Valve failure

Myocardial diseases

Congenital and acquired types of myopathies

Treatment of heart failure (all diagnostic and therapeutic options within the German Heart Center Berlin and the Charite University Hospital)
Heart rhythm disorders

All diagnostic and treatment methods, including the implantation of pacemakers and defibrillators

Correction of heart disease risk factors

Arterial hypertension, dyslipidemia, diabetes mellitus, etc.

Pulmonary hypertension

And other diagnostic and therapeutic options
Curriculum vitae
Education and Professional Experience
1987 - 1989 Research Fellow, University of Munich, Germany.
1989 - 1990 Visiting Research Fellow, Tokyo, Japan.
1991 Visiting Research Fellow, Harvard Medical School, Boston, USA.
1995, 1996 Visiting Research Fellow, Loyola University, Chicago, USA.
1990 - 1997 Clinical Training, Department of Internal Medicine / Cardiology and Angiology, University of Freiburg, Germany.
1997 Specialization in Internal Medicine.
1998 Specialization in Cardiology.
1998 Habilitation, University of Freiburg, Germany.
1998 - 2007 Associate Professor of Cardiology, Department of Cardiology and Pulmonology, University of Göttingen, Germany.
2007 - 2014 Head, Department of Cardiology, Medical University of Graz; Visiting Professor and Head of the Clinical Research Program, Department of Cardiology, University of Göttingen, Germany.
2010 - 2014 Director of the Ludwig Boltzmann Institute for Translational Heart Failure Research.
Since 2014 Director of the Department of Cardiology at the German Heart Centre Berlin; Director of the Department of Cardiology at the University Hospital Charité, Campus Virchow, Berlin, Germany.
---
About hospital
Accommodation in hospital
Atrioventricular block (av-block)
Price:
Program [Description]
Pacemaker implantation to treat AV block Type Mobitz 2 and 3
Hospital: German Heart Center Berlin
Type:
access_time Duration:
date_range
There are 90 atrioventricular block (av-block) treatment hospitals on Booking Health website
Show all clinics
Certificates