Hannover Medical School (MHH)
Department of Adult and Pediatric Orthopedics (

229647

)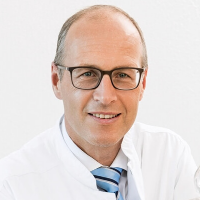 Prof. Dr. med.
Henning Windhagen
Specialized in: adult and pediatric orthopedics
About the Department of Adult and Pediatric Orthopedics at Hannover Medical School (MHH)
According to the prestigious Focus magazine, the Department of Adult and Pediatric Orthopedics at the Hannover Medical School ranks among the top German medical facilities in the area of its specialization!
The department provides highly effective treatment for the full spectrum of musculoskeletal diseases in patients of all age groups, including children. The medical facility is one of the largest and the most prestigious Orthopedic Centers in Germany. Here the patients can get top-class medical care in the following areas: spinal surgery, joint replacement surgery and reconstructive surgery, correction of musculoskeletal deformities, treatment of foot diseases, pediatric orthopedics and neuro-orthopedics. More than 40,000 patients undergo treatment in the department annually. Thanks to the high competence of doctors and the use of advanced conservative treatment methods, many patients, including those with complex clinical cases, manage to avoid surgery. If the patient requires surgery, the department's surgeons most often resort to minimally invasive techniques. The department is headed by Prof. Dr. med. Henning Windhagen.
The department has unique experience in joint replacement surgery. The high quality of medical care in the department is confirmed by the certification as the Maximum Care Endoprosthetics Center. During the operation, special attention is paid to the careful treatment of muscles and tendons. The department uses the most sparing surgical techniques, which are safe for the patient and guarantee minimal blood loss. The most popular operations in this area are knee and hip replacement surgeries. As of today, the department performs such operations using minimally invasive techniques, which involve surgical access through several small incisions. When performing the surgical procedure, the surgeon can see the image of the operating field on a large screen, in multiple zoom. The implantation of an artificial joint is performed under the guidance of progressive navigation systems. Such an approach allows the doctors to guarantee the most accurate positioning of the prosthesis, which determines the success of the operation. The service range in the field of joint replacement surgery also includes revision interventions to replace previously implanted prostheses. The operations of this kind are considered particularly difficult, but the department's specialists successfully cope with them.
The department is also an advanced center for conservative and surgical treatment of spinal diseases. Conservative treatment involves the use of all options to avoid surgery: drug therapy, physiotherapeutic procedures (for example, massage, electrotherapy), therapeutic exercises, treatment with modern corsets, etc. If conservative therapeutic methods do not give positive results, specialists consider the possibility of surgical treatment. The department uses the full range of modern surgical procedures, including stabilizing surgery in case of prolapse or displacement of intervertebral discs, surgery to replace intervertebral discs, surgery for spinal stenosis, spinal fractures, as well as surgery for severe forms of scoliosis and kyphosis. Most spinal surgeries are performed using minimally invasive techniques. In addition, the department's operating rooms are equipped with advanced surgical microscopes, neuromonitoring systems and other devices, which allow surgeons to carry out not only effective, but also the safest surgical treatment of spinal diseases.
Children with musculoskeletal diseases are treated by a specially trained team of orthopedists with extensive clinical experience. At the stage of treatment regimen planning, the specialists take into account not only the diagnosis and general condition of the child, but also his age, as well as the peculiarities of the development of the child's body at this age. The team of pediatric orthopedists treats more than 3,500 young outpatients every year. In addition, the department annually performs more than 800 operations for orthopedic and neuro-orthopedic diseases in children and adolescents. In especially complex clinical cases, specialists from partner clinics are involved (for example, from the Child Care Center Bremen, the Werner Otto Institut Hamburg).
The department's service range includes:
Shoulder surgery

Shoulder replacement surgery (for example, use of a reverse prosthesis, surface joint replacement)
Joint replacement using anatomical techniques (implantation of a hemiprosthesis, total replacement surgery)
Revision shoulder replacement surgery
Rotator cuff repair
Shoulder stabilization
Acromioclavicular joint stabilization
Surgery to treat shoulder impingement syndrome
Treatment of calcifying shoulder tendinitis

Knee surgery

Cruciate ligament reconstruction
Reconstruction or replacement of menisci
Restoration of the cartilaginous lining of the joint (from cell therapy to the use of the HemiCAP technique)
Patella stabilization
Corrective osteotomy
Implantation of a sliding prosthesis
Total or partial knee replacement surgery

Joint replacement surgery

Knee and hip replacement surgery (including particularly severe cases)
Revision replacement surgery and joint replacement surgery for infectious diseases
Joint replacement surgery in case of cancers
Joint replacement surgery in case of rheumatism, osteoporosis and necrosis
Bone tissue transplantation
Implantation of individually selected and custom-made prostheses
Minimally invasive interventions on the hip and knee joints
Operations using navigation systems

Hip and pelvic surgery

Treatment of hip impingement syndrome (with joint preservation)
Bone and soft tissue surgery
Corrective osteotomy of the femur and pelvic bones
Treatment of femoral head necrosis

Correction of musculoskeletal deformities

Comprehensive corrections to eliminate deformities
Bone elongation by the Ilizarov technique

Orthopedic oncology

Surgical treatment of bone tumors
Joint replacement surgery in case of cancers
Reconstruction techniques using biological materials
Surgical treatment of bone metastases
Surgical treatment of soft tissue sarcoma
Treatment of benign tumors of soft tissues and bones

Treatment of spinal diseases

Conservative treatment of spinal diseases

Drug therapy
Physiotherapeutic procedures
Therapeutic exercises
Manual therapy
Osteopathic therapy
Treatment with corsets

Surgical treatment of spinal diseases

Intervertebral disc surgery
Treatment of spinal stenosis
Balloon kyphoplasty in osteoporosis
Minimally invasive decompression techniques
Intervertebral disc replacement
Displaced vertebrae correction
Placement of dynamic implants
Scoliosis and kyphosis correction
Treatment of diseases of the cervical spine
Spinal infiltration/periradicular therapy (PRT)
Surgical treatment of spinal fractures

Foot surgery

Correction of the posterior foot deformities

Upper ankle cartilage reconstructive surgery
Foot ligament reconstructive surgery
Ankle replacement surgery
Revision ankle replacement surgery (also in infections)
Arthrodesis
Soft tissue surgery
Ankle arthroscopy
Tendon transposition
Treatment of Charcot foot
Revision interventions

Correction of the anterior foot deformities

Hallux valgus and hallux rigidus correction
Soft tissue surgery (tendon surgery)
Arthrodesis
Correction of the little toe
Revision interventions

Treatment of foot cancers

Pediatric orthopedics

Treatment of flat feet combined with external clubfoot
Correction of limb deformities
Correction of skull deformities
Surgery for growth disorders
Treatment of Perthes disease
Treatment of slipped capital femoral epiphysis
Treatment of scoliosis
Treatment of torticollis
Treatment of hip dysplasia, hip dislocation
Treatment of clubfoot
Arthroscopic surgery
Conservative therapy

Neuro-orthopedics (treatment of orthopedic diseases developed due to the following diseases)

Infantile cerebral palsy
Spina bifida
Arthrogryposis
Hereditary syndromes
Metabolic disorders
Muscular dystrophy
Spinal muscular atrophy
Chromosomal abnormalities

Other medical services
Curriculum vitae of Prof. Dr. med. Henning Windhagen
From 1984 to 1991, Prof. Henning Windhagen studied medicine at the Philipps University of Marburg and the University of Bern (Switzerland). His doctoral thesis defense was followed by activities in the field of orthopedic surgery and biomechanical sciences at the Harvard Medical School in Boston, USA. Also, Dr. received scholarships from the Else Kröner Fresenius Foundation and Braun Foundation. After working as an Assistant Physician in the Department of Traumatology at the Humboldt University of Berlin and at the Charité Campus Virchow, Prof. Windhagen had his board certification in Orthopedics and became a Research Assistant in the Department of Orthopedics at the Hannover Medical School, where in 2001 he became an Associate Professor. In 2004, the doctor also received Venial Legendi in Biomedical Engineering (Hannover University). Since 2006, Windhagen has been Full Professor of Orthopedics, Head of the Department of Adult and Pediatric Orthopedics at the Hannover Medical School, as well as Head of the Laboratory for Biomechanics and Biomaterials. In 2007, Prof. Windhagen became Co-Head of the CrossBIT Research Center (Center for Biomaterials, Implant Immunology and Medical Technologies). In 2008, he headed OrthoGO (Institute of Orthopedic Analysis and Analysis of Movements). Since 2012, Prof. Windhagen has been a Board Member of the Center for Implant Research and Development of Lower Saxony (NIFE).
Main Research Focuses
Implant research.
Computerized surgery (navigation surgery).
Biomechanics.
Study of growth factors and cytokines.
Degradable biomaterials in osteonecrosis.
Knee and hip surgery (especially endoprosthetics and revision surgery to replace joints).
Membership in the Professional Societies
2008 - 2011 Treasurer of the German Society for Reconstructive Extremity Surgery (A.S.A.M.I).
2009 - 2011 Deputy Head of the Conference of Ordinary Professors in Orthopedics.
2010 - 2012 Vice President of the Section of Fundamental Research of the German Society for Orthopedics and Orthopedic Surgery.
2014 Elected as the President of the German Society for Orthopedics and Orthopedic Surgery (DGOOC) and the German Society of Orthopedics and Traumatology (DGOU).
President of the Association of Orthopedic Research (AFOR) and Secretary of the German Society for Endoprosthetics.
Awards and Honors
1990 Poster Prize of the German Society of Traumatology (DGU).
1999 - 1990 Poster Prize, Section for Fundamental Research of the German Society for Orthopedics and Traumatology (DGOT).
1999 Innovation Contest for Promotion of Medical Technologies, Financing Program of the Federal Ministry of Education and Research (BMBF).
2000 Innovation Contest for Promotion of Medical Technologies, Financing Program of the Federal Ministry of Education and Research (BMBF).
Photo of the doctor: (c) Medizinische Hochschule Hannover (MHH)
Department of Adult and Pediatric Orthopedics.
Hannover Medical School (MHH):

Request more information now.
We will be happy to answer all your questions.
---
Certificates