Hannover Medical School (MHH)
Department of Hematology, Oncology and Stem Cell Transplantation (

229735

)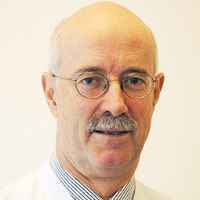 Prof. Dr. med.
Arnold Ganser
Specialized in: hematology, oncology, stem cell transplantation
About the Department of Hematology, Oncology and Stem Cell Transplantation at Hannover Medical School (MHH)
The Department of Hematology, Oncology and Stem Cell Transplantation at the Hannover Medical School offers the full range of diagnostic and therapeutic services in its fields of competence. The doctors of the medical facility carry out diagnostics and treatment of solid tumors, benign and malignant hematopoietic diseases, as well as blood coagulation disorders. The specialists are distinguished by their unique skills in the field of stem cell transplantation. A special offer is the innovative CAR T-cell therapy, currently available only in the most advanced medical facilities in Europe. The primary goal of the department's specialists is to provide optimal medical care for patients with serious, often life-threatening diseases. The vast clinical experience of the department's medical team makes it possible to competently select the most effective therapeutic methods and achieve excellent treatment results. The department is headed by Prof. Dr. med. Arnold Ganser.
A competent team consisting of doctors, psychologists, nursing staff and technical service specialists takes care of the patients' health and well-being. The department maintains close interdisciplinary collaboration with other specialists and attending physicians. In addition, the department is actively engaged in research activities. It carries out many clinical and basic research activities aimed at developing new treatment methods. The department's doctors are also members of many national and international research societies.
Cancer treatment is an integral part of the department's clinical practice. The department's doctors most often admit patients with gastrointestinal cancer (stomach, bowel, esophageal, pancreatic cancers, etc.), bone and soft tissue malignancies (sarcomas), genital cancers in men and women. The department specializes in conservative therapy – medication, chemotherapy, immunotherapy, targeted therapy, hormone therapy. In most cases, the basis of cancer treatment is surgical resection of the tumor, so the department's oncologists cooperate closely with abdominal surgeons, orthopedists, urologists, gynecologists and other doctors who perform surgical interventions. Radiation therapists are also often involved in the therapeutic process.
In the field of hematology, doctors admit patients with various forms of leukemia, myelodysplastic syndrome, myeloproliferative disorders, lymphomas, plasmacytomas, aplastic anemia, hemophilia, thrombophilia and other pathologies. Various drug regimens, chemotherapy and stem cell transplantation are used for the treatment of hematological diseases.
It should be noted that the department is one of the few not only in Germany, but also in the world, specializing in CAR T-cell therapy. This is a progressive treatment for adults with relapsed diffuse large B-cell lymphoma. The essence of the therapy lies in the genetic programming of the patient's own leukocytes to destroy cancer cells. The specialized equipment is used to isolate leukocytes from the blood, after which they are genetically modified in the laboratory. The last stage of the therapeutic procedure is the injection of leukocytes programmed to destroy cancer cells into the patient's body by means of infusion. CAR T-cell therapy provides excellent results for certain types of blood cancers and is an innovative alternative to other therapies.
The department's range of medical services includes both diagnostics and treatment of the following diseases:
Acute and chronic leukemia

Chemotherapy
Stem cell transplantation
Immunotherapy

Myelodysplastic syndrome (bone marrow malignancy)

Symptomatic therapy with blood transfusion
Chemotherapy
Stem cell transplantation

Lymphomas
Rare blood diseases (for example, hypereosinophilic syndrome, hemophagocytic syndrome)
Benign blood diseases (for example, anemia)
Solid malignant tumors

Malignant gastrointestinal tumors
Malignant tumors of the female and male genital organs
Malignant tumors of bones and soft tissues

Blood clotting disorders

Haemophilia A and B
Von Willebrand disease
Thrombocytopathy
Bleeding during surgery or other procedures (unclear genesis)
Thrombosis
Blood clotting disorders during pregnancy

Other oncological and hematological pathologies
Curriculum vitae of Prof. Dr. med. Arnold Ganser
​Higher Education and Postgraduate Training
1972 - 1979 Study of Medicine in Aachen, Glasgow, Baltimore, Denver.
1979 Doctorate, RWTH Aachen University.
1990 Board certification in Internal Medicine.
1992 Additional qualification in Hematology and Oncology.
2007 Additional training in Hemostaseology.
1991 Habilitation, Internal Medicine, Goethe University Frankfurt. Subject: "Changes in hematopoietic stem cells in patients with acquired immunodeficiency syndrome (AIDS)".
Professional Career
1979 - 1981 Head of Medical Services at the Bundeswehr Central Hospital in Koblenz, Department of Surgery.
1981 - 1982 Research Fellow, Department of Clinical Physiology, University of Ulm (Prof. Dr. med. T. Fliedner).
1982 - 1984 Research Fellow, Department of Internal Medicine III, University Hospital Ulm (Prof. Dr. med. H. Heimpel).
1984 - 1990 Research Fellow of the Department of Hematology (Prof. Dr. med. D. Hoelzer) and special training at the University Hospital Frankfurt am Main.
1991 - 1995 Senior Physician, Center for Internal Medicine, Goethe University Frankfurt.
Since 10.2007 Head of the Department of Hematology, Oncology and Stem Cell Transplantation at the Hannover Medical School.
Awards and Honors
1974 - 1979 Scholarship of the German Academic Scholarship Foundation.
1988 Artur Pappenheim Prize of the German Society of Hematology and Medical Oncology.
1990 Dr. Paul and Cilli Weil Prize of Goethe University Frankfurt.
1992 Prize of the Hessian Cancer Society.
2007 Collaboration Award, Lower Saxony.
2014 Cited Research Fellow, Thomson Reuters.
Memberships
American Society of Hematology.
American Society of Clinical Oncology.
Working Group on Oncology.
German Working Group on Gene Therapy.
German Working Group on Blood Stem Cell Transplantation.
German Society of Hematology and Oncology.
German Society of Internal Medicine.
German Society of Naturalists and Physicians.
German Society of Oncology.
European Association of Hematology.
European Leukemia Net.
European Working Group on the Transfer of Human Genes and Gene Therapy.
Society for the Study of Thrombosis and Hemostasis.
International Association for Comparative Leukemia Research.
International Society for Experimental Hematology.
Excellence Network for Acute and Chronic Leukemia.
South German Group on the Treatment of Hemoblastosis.
American Society of Gene Therapy.
Photo of the doctor: (c) Medizinische Hochschule Hannover (MHH)
Department of Hematology, Oncology and Stem Cell Transplantation.
Hannover Medical School (MHH):

Request more information now.
We will be happy to answer all your questions.
---
Certificates