Hannover Medical School (MHH)
Department of Neurology (

229743

)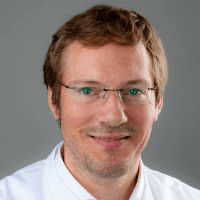 Prof. Dr. med.
Günter Höglinger
Specialized in: neurology
About the department
The Department of Neurology at the Hannover Medical School offers the full range of services in this field. The department's scope of tasks includes the diagnostics and treatment of diseases of the central and peripheral nervous system. The department has 87 beds, 15 of which are intended for patients of the certified Stroke Unit, which is functioning at the medical facility. Medical care is provided by a competent team of professionals with a huge clinical experience and unique knowledge in the area of their specialization. The department is headed by Prof. Dr. med. Günter Höglinger.
One of the most common neurological diseases is a stroke. To provide the most effective treatment of this pathology, the department runs an advanced Stroke Unit, which is the certified interregional Stroke Center. It annually helps to more than 800 patients with acute stroke. Within the frameworks of the Stroke Unit, the department provides the comprehensive treatment, including thrombolytic therapy, mechanical stent implantation to restore blood supply to the affected brain areas (recanalization) and other techniques. It should be noted that the department shows excellent results of stroke treatment and high survival rate, and therefore enjoys a good reputation at both national and international levels.
Thanks to close cooperation with the Institute of Diagnostic and Interventional Neuroradiology, Departments of Cardiology, Angiology and Neurosurgery, the department provides the comprehensive patient care even in the most severe pathologies.
In addition, the specialists of the department are engaged in active research on studying and treating stroke, amyotrophic lateral sclerosis, neuromuscular diseases, motor disorders and other neurological disorders. Thus, the department can integrate the very latest clinical developments contributing to the restoration of patients' health and improvement of their quality of life.
The departmet's range of medical services includes:
Diagnostics and treatment of cerebrovascular diseases (for example, stroke)
Diagnostics and treatment of amyotrophic lateral sclerosis
Diagnostics and treatment of neuromuscular diseases
Diagnostics and treatment of neuroimmunological diseases (for example, multiple sclerosis, immune neuropathies, myasthenia gravis)
Diagnostics and treatment of motor disorders (for example, Parkinson's disease)
Treatment of neurological complications after organ transplantation and encephalopathy in HCV
Cerebrospinal fluid analysis (within the frameworks of the specialized laboratory)
Other services
Curriculum vitae
Academic Degrees
2000 - 2007 Habilitation, University of Marburg, Germany.
1992 - 2000 Dr. med., Universities of Regensburg, Würzburg and Marburg, Germany.
Major Appointments
Since 2017 Head of the Interdisciplinary Clinical Trial Unit, DZNE in Munich.
Since 2011 Chair for Translational Neurodegeneration, TUM and DZNE in Munich.
Since 2011 Senior Consultant, Department of Neurology, University Hospital Marburg.
2011 Deputy Director, Department of Neurology, University Hospital Marburg.
2009 - 2010 Managing Senior Consultant, Department of Neurology, University Hospital Marburg.
Memberships in Professional Societies
Since 2017 President elect, German Parkinson Association (DPG).
Since 2015 Member of SABs of AbbVie, Asceneuron, BMS, Roche, Sanofi, UCB.
Since 2012 Chair, Study Group of the International Movement Disorders Society.
Awards and Honors
2017 Dingebauer Prize for Research in Atypical Parkinson Syndromes, German Society for Neurology (DGN).
2011 - 2016 Heisenberg Professorship, German Research Council (DFG).
2009 First Prize for Innovative Therapeutic Strategies for Neurodegenerative Disorders, Dr. Walter und Luise Freundlich Foundation.
1994 - 1999 Student Scholarship, Hanns Seidel Foundation.
Photo of the doctor: (c) Medizinische Hochschule Hannover (MHH)
Department of Neurology.
Hannover Medical School (MHH):

Request more information now.
We will be happy to answer all your questions.
---
Certificates