Hannover Medical School (MHH)
Department of Pediatric Pulmonology, Allergology and Rheumatology (

390078

)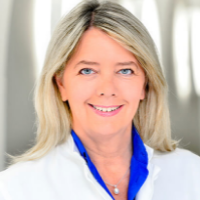 Prof. Dr. med.
Gesine Hansen
Specialized in: pediatric pulmonology, allergology, rheumatology
About the department
The Department of Pediatric Pulmonology, Allergology and Rheumatology at the Hannover Medical School offers comprehensive diagnostics and effective treatment of acute and chronic diseases of the lungs and respiratory tract, allergic reactions and rheumatic diseases. With the Department of Gynecology and Obstetrics, the department forms the Level I Perinatal Center, and therefore young patients of all age groups, including newborns and premature babies, can receive high-quality medical care here. The department's medical team specializes in conservative treatment, and if surgery is required, pediatric surgeons are involved in the process. In addition to specialized doctors, the department employs an experienced team of nursing staff, psychologists, nutritionists, physiotherapists and other specialists whose task is to restore the child's health. The doctors devote enough time to communication with children and their parents, and also do everything possible to make the child feel as comfortable as possible in the hospital. The Chief Physician of the department is Prof. Dr. med. Gesine Hansen.
One of the main focuses of the department's clinical activities is the provision of medical care to children with diseases of the lungs and respiratory tract. Depending on the particular clinical case, children with pathologies of this spectrum can receive treatment both on an inpatient or outpatient basis. The department has well-equipped diagnostic rooms, which allow pediatric pulmonologists to assess the condition of the child's lungs and respiratory tract. The department's diagnostic options include whole-body plethysmography, spirometry, impulse oscillometry, lung diffusion testing, treadmill exercise stress tests, laryngoscopy, provocation tests, and other diagnostic methods. With diagnostic results, the attending physician makes a diagnosis and begins to develop an optimal treatment regimen. The department carries out only conservative therapy, which consists in the intake of drugs. If drug therapy does not yield the desired result, it becomes necessary to use more radical therapeutic measures. Pulmonologusts plan endoscopic or surgical treatment in collaboration with pediatric surgeons, thoracic surgeons, radiologists and other specialists. Pediatric pulmonologists most often admit young patients with severe forms of bronchial asthma, congenital malformations of the lungs and respiratory tract, interstitial lung diseases, infectious respiratory diseases, etc.
The department includes a specialized Pediatric Cystic Fibrosis Center, which began its work in 1972 and today is known as one of the best specialized centers in Germany. Moreover, as of today, it is the only medical facility in the country where young patients can receive the full range of diagnostic and therapeutic procedures – from genetic tests, sweat tests and electrophysiological tests to lung transplant. The doctors of the center annually treat about 2,000 children under the age of 18, who suffer from cystic fibrosis and similar severe lung diseases.
An integral part of the work of the medical facility is the diagnostics and treatment of allergies in children. Pediatric allergists specialize in the treatment of bronchial asthma, allergic rhinitis, food allergies, atopic eczema, insect venom allergies, and drug allergies. Allergies are detected using skin tests, IgE tests, nasal provocation tests, and special provocation tests to determine food intolerances. The main treatment method for allergy is allergen-specific immunotherapy (hyposensitization, ASIT). In most cases, children with allergies receive medical care on an outpatient basis. Hospitalization may be required if the child develops wasp or bee venom allergy.
The department also employs a competent team of pediatric rheumatologists, who annually admit more than 1,400 children with pathologies of this spectrum. The department belongs to the largest medical facilities in Germany specializing in rheumatic diseases in children. The department's interdisciplinary team, consisting of pediatric rheumatologists, nurses, physiotherapists, psychologists and social teachers, carries out diagnostics and treatment of all rheumatic diseases in children under the age of 18. The most common clinical conditions include all forms of juvenile rheumatoid arthritis, including systemic arthritis, enthesitis-related arthritis, psoriatic arthritis, and all forms of scleroderma. The diagnostic options include standardized assessment of joint status and muscle examination (assessment of myositis in children, manual muscle testing), as well as imaging diagnostics (ultrasound, MRI, etc.). In addition to drug therapy, the department carries out joint punctures, steroid injections, as well as splints and individual selection of other aids.
The department's range of medical services includes:
Diagnostics and treatment of pulmonary diseases

Bronchial asthma
Chronic obstructive pulmonary disease
Acute and chronic infectious diseases of the lungs
Pulmonary tuberculosis
Interstitial lung diseases (ILD)
Primary ciliary dyskinesia (PCD)
Bronchopulmonary dysplasia
Congenital pathologies of the respiratory tract
Extrinsic allergic alveolitis
Allergic bronchopulmonary aspergillosis
Bronchiectasis
Malformations and diseases of the pulmonary vessels
Alpha-1-antitrypsin deficiency (including cystic fibrosis)
Breathing dysregulation
Systemic diseases involving the respiratory tract

Diagnostics and treatment of allergic diseases

Bronchial asthma
Allergic rhinitis
Food allergies
Atopic eczema
Insect venom allergy
Drug allergy

Diagnostics and treatment of rheumatic diseases

All forms of juvenile arthritis

Oligoarthritis
Seronegative and seropositive polyarthritis
Still's disease
Enthesitis-related arthritis
Psoriatic arthritis

Collagenoses
Systemic lupus erythematosus
Juvenile dermatomyositis
All forms of scleroderma

Sclerodermia placata
Linear scleroderma
Systemic scleroderma
Vasculitis (Kawasaki disease, Henoch-Schonlein purpura and others)
Periodic fever syndromes (familial Mediterranean fever, TRAPS, and others)
Chronic nonbacterial osteomyelitis

Other diagnostic and therapeutic options
Curriculum vitae
Higher Education and Postgraduate Training
1985 - 1992 Study of Human Medicine at Ruhr University Bochum, Charing Cross Hospital Medical School and Westminster Hospital Medical School.
1992 Doctoral thesis defence, Institute of Microbiology and Virology, Ruhr University Bochum.
2001 Habilitation and Venia Legendi in Pediatric and Adolescent Medicine, Martin Luther University Halle-Wittenberg.
Professional Career
2001 - 2006 Head of the Research Group of the German Federal Ministry of Education and Research: "Search for immunoregulatory mechanisms of development of allergic bronchial asthma and the development of new therapeutic regimens".
2003 - 2005 C3 Professor in Pediatric Allergology and Pulmonology, Martin Luther University Halle-Wittenberg.
Since 2005 W3 Professor in Pediatric and Adolescent Medicine and Head of the Department of Pediatric Pulmonology, Allergology and Rheumatology at the Hannover Medical School.
2009 - 2013 SFB 587 Representative, Immune Reactions in the Lungs in Infections and Allergies, German Research Foundation (DFG).
Since 2013 Board Member of the German Center for Lung Research, BREATH, German Federal Ministry for Education and Research (BMBF).
Since 2018 Representative of the Else Kroener Research College of Young Doctors (TITUS – The First Thousand Days of Life – Frühe Prägung und Prävention).
Since 2018 Deputy Press Secretary, Working Group of the German Research Foundation (DFG).
Awards, Prizes and Honors
2000 International Young Researchers Prize "Pediatric Pulmonology", Munich.
2001 Johannes Wenner Prize of the Pediatric Pulmonology Association, Bern.
2001 Arthur Schlossmann Prize, Society of Pediatric and Adolescent Medicine, Germany.
2002 Wilhelm Roux Research Prize, Martin Luther University Halle-Wittenberg.
2002 Adalbert Czerny Prize of the German Society of Pediatric and Adolescent Medicine, Leipzig.
2003 International Allergy Research Award, Vancouver, Canada.
2007 Karl Hansen Prize, German Society of Allergology and Clinical Immunology, Luebeck.
2013 Eva Luise and Horst Koehler Prize for Research on Rare Diseases, Berlin.
2013 Admission to the German National Academy of Sciences Leopoldina.
Research Interests
Immune regulation in allergies and bronchial asthma.
Paediatric respiratory infections.
Cell therapy for rare lung diseases.
Patents
PCT/EP2009/067384: diagnostic conjugate and polychromatic analysis method.
EP17195522.2: diagnostics and therapy for human respiratory syncytial virus (hRSV).
Work in Professional Organizations and Societies
Since 2006 Member of the Commission for Medicines for Children and Adolescents (KAKJ) of the Federal Ministry of Health.
2004 - 2008 Board Member of the German Society for Pediatric Pulmonology (GPP).
2008 - 2013 Advisory Board Member of the Genomic Medicine and Research Program of the German Federal Ministry of Education and Research (BMBF).
2008 - 2015 President of the German Society for Pediatric Pulmonology (GPP).
2008 - 2015 Board Member of the Society of Pediatric Allergology.
2016 - 2024 Member of the Medical Commission of the German Research Foundation.
2020 - 2024 Member of the Professorial Admission Committee of Humboldt University Berlin.
Photo of the doctor: (c) Medizinische Hochschule Hannover (MHH)
Department of Pediatric Pulmonology, Allergology and Rheumatology.
Hannover Medical School (MHH):

Request more information now.
We will be happy to answer all your questions.
---
Certificates