Hannover Medical School (MHH)
Department of Pediatric Pulmonology, Allergology, Diabetology, Rheumatology and Neonatology (

390078

)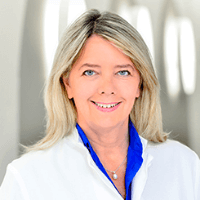 Prof. Dr. med.
Gesine Hansen
Specialized in: pediatric pulmonology, allergology, diabetology, rheumatology, neonatology
About the department
The Department of Pediatric Pulmonology, Allergology, Diabetology, Rheumatology and Neonatology at the Hannover Medical School offers competent diagnostics and treatment of all acute and chronic diseases of the lungs and respiratory tract, immune system, diabetes mellitus and rheumatic diseases. In addition, the scope of tasks of the department's specialists also includes the treatment of patients with other common diseases in childhood and adolescence. Together with the Department of Gynecology and Obstetrics, the department forms the Level I Perinatal Center. The Chief Physician of the department is Prof. Dr. med. Gesine Hansen.
In the field of pulmonology, the department offers the diagnostics and treatment of the following diseases:
Bronchial asthma
Chronic obstructive pulmonary diseases
Acute and chronic infectious lung diseases
Pulmonary tuberculosis
Interstitial lung diseases (ILD)
Primary ciliary dyskinesia (PCD)
Bronchopulmonary dysplasia
Congenital pathologies of the respiratory tract
Exogenous allergic alveolitis
Allergic bronchopulmonary aspergillosis
Bronchiectasis
Malformations and diseases of the pulmonary vessels
Alpha-1 antitrypsin deficiency (including cystic fibrosis)
Breathing regulation disorders
Long-term oxygen therapy (LTOT), home ventilation
Systemic diseases with respiratory tract lesion
And other diseases
One of the department's key focuses is diabetology. The department specializes in the diagnostics, treatment of children and adolescents under 18 years of age with all forms of diabetes. The most common form of diabetes in childhood is type 1 diabetes (insulin deficiency). In addition, within the immunological focus, the department offers a broad diagnostic and therapeutic spectrum for children and adolescents with immune system disorders. The department is one of the largest German centers specializing in the treatment of immunodeficiency states.
Similarly, treating more than 1,400 patients every year, the department belongs to the largest Rheumatology Centers in Germany. The department's interdisciplinary team, consisting of pediatric rheumatologists, nurses, physiotherapists, psychologists, social educators, etc., offers the diagnostics and treatment of all forms of rheumatic diseases. The most common clinical conditions include all forms of juvenile idiopathic arthritis (chronic arthritis), including systemic arthritis, arthritis due to enthesitis, and psoriatic arthritis. The diagnostic options cover a standardized assessment of joint status and muscle examination (assessment of myositis in children, manual muscle testing), as well as imaging diagnostics (ultrasound, MRI, etc.). For therapeutic purposes, in addition to medical treatment, there are used joint punctures, steroid injections, as well as splints and other auxiliary aids.
The main focuses of the department:
Allergology
General pulmonology
Cystic fibrosis
Diabetes mellitus
Immunology
HIV
Lung transplantation
Neonatology/monitoring
Sleep Laboratory
Tuberculosis
Rheumatology
As well as other diagnostic therapeutic options
Curriculum vitae
Education and Professional Experience
1985 - 1992 Study of Medicine, Medical School, Bochum University, Germany, and Charing Cross and Westminster Medical School, Great Britain.
1992 Medical Degree, Department of Microbiology and Virology, Bochum University, Germany.
1992 Medical License (Dr. med.).
1993 - 1997 Resident and Fellow, Department of Pediatrics, University of Düsseldorf, Germany.
1997 - 1999 Research Associate, Department of Immunology and Transplantation Biology, Stanford University, USA.
1999 - 2003 Fellow and Senior Physician, Department of Pediatrics, University of Halle, Germany.
2001 Habilitation and Venia Legendi in Pediatrics, University of Halle, Germany.
2001 - 2006 Head of the Research Group "Immune regulatory mechanisms in allergic asthma" funded by the Federal Ministry of Education and Research (BMBF).
2003 - 2005 Professor of Pediatrics (C3) and Vice Chairwoman, Department of Pediatrics, University of Halle.
2005 Professor of Pediatrics (W3) and Chairwoman, Department of Pediatric Pneumology, Allergology and Neonatology, Hannover Medical School, Germany.
2006 - 2015 Head of the special Research Group "Immune response of the lungs to infections and allergies", German Research Society.
Since 2013 Management Member Board, German Center for Lung Research BREATH, branch in Hannover (Biomedical research of terminal stages of lung diseases and obstructive pulmonary disease).
Photo of the doctor: (c) Medizinische Hochschule Hannover (MHH)
Department of Pediatric Pulmonology, Allergology, Diabetology, Rheumatology and Neonatology.
Hannover Medical School (MHH):

Request more information now.
We will be happy to answer all your questions.
---
Certificates