Hannover Medical School (MHH)
Department of Nephrology and Hypertensiology (

390936

)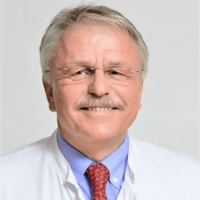 Prof. Dr. med.
Hermann Haller
Specialized in: nephrology, hypertensiology
About the department
The Department of Nephrology and Hypertensiology at the Hannover Medical School offers the full range of diagnostic and therapeutic services in the areas of its specialization. It effectively treats kidney diseases of any severity, all forms of arterial hypertension and rare diseases associated with arterial hypertension. The scope of the department's tasks also includes kidney transplantation and renal replacement therapy. The department is headed by Prof. Dr. med. Hermann Haller.
The department offers both inpatient and outpatient medical care. The patients are diagnosed and treated within the framework of various specialized stations: the Stations 28A, 28B and 32A offer a wide range of medical services for the diagnosis and treatment of all forms of nephrologic pathologies and high blood pressure, the Station 85 is a surgical unit for kidney transplantation, the Station 14 provides intensive care for patients with particularly severe forms of diseases, while the Station 10 serves to provide medical care to patients with acute kidney failure (renal replacement therapy).
The department specializes in all forms of dialysis:
Peritoneal dialysis
Hemodialysis
Hemofiltration
Hemodiafiltration
Continuous renal replacement therapy

Genius Dialysis System
Continuous venovenous hemofiltration (CVVH)
Continuous arteriovenous hemodialysis (CVVHD)
Other continuous dialysis procedures

Plasmapheresis
Immunoadsorption
Other forms of dialysis
In addition, the department has a large Ambulance Station, which treats patients with acute and chronic kidney diseases. Also, the Ambulance Station serves patients with risk factors for developing acute or chronic kidney disease, for example, patients with arterial hypertension or patients with metabolic disorders (especially with diabetes mellitus). Great attention is paid to the care of patients after kidney transplantation.
The big advantage of the department is its active research activities. There are conducted many studies in the field of kidney inflammatory diseases, chronic kidney diseases in arterial hypertension and diabetes, acute kidney failure, dialysis and transplantation. Different research groups analyze the molecular mechanisms of a particular disease in animal models and cell cultures. An important point in all these studies is the so-called "translational aspect", that is, when analyzing the cellular and molecular mechanisms of the disease, the first role is always assigned to the search for optimal diagnostics and the most effective therapeutic measures.
Curriculum vitae
1976 - 1979 Study of History of Arts, Free University of Berlin.
1976 - 1982 Medical School, Free University of Berlin.
1982 Doctor's Degree (Dr. med.), Free University of Berlin, Department of Endocrinology.
Postgraduate Training
1982 - 1992 Internal Medicine, University Hospital Benjamin Franklin, Free University of Berlin.
1987 - 1989 Postdoctoral Research Fellow, Yale University, Medical School, Department of Endocrinology (Prof. H. Rasmussen).
1982 Approbation (Medical License).
1991 Residency, Internal Medicine (24.10.1991).
1998 Residency, Nephrologist (18.03.1998).
1992 Habilitation, Internal Medicine, Free University of Berlin. Subject: "Molecular mechanisms of cardiovascular hypertrophy".
Appointments and Positions
1991 - 1993 Assistant Professor of Medicine, University Hospital Benjamin Franklin, Berlin.
1992 - 1999 Deputy Head, Department of Nephrology, Franz Volhard Clinic, Humboldt University, Berlin.
1993 - 1999 Associate Professor (C3), Humboldt University, Berlin, and Coordinator, Research Area – Hypertension, Max Delbrück Center for Molecular Medicine (MDC), Berlin, Buch.
Since 1999 Head of the Department of Nephrology and Hypertensiology, Hannover Medical School.
2002 - 2011 Dean of Medical Education (Studiendekan), Hannover Medical School.
2007 Coordinator, Integrated Research and Treatment Centre for Transplantation (IFB), Hannover Medical School.
2007 Faculty of the Mount Desert Island Biological Laboratory (MDIBL).
2011 Honorary Professor, Huazhong University of Science and Technology in Wuhan, China.
2011 Director of the Sino-German Clinical Trial Centre of Tongji Hospital.
2014 Head of Management of International Affairs, Hannover Medical School.
Major Scientific Interests
Pathogenesis and consequences of hypertension.
Kidney and vessel injury and regeneration.
Honors and Awards (selected)
1994 Franz Volhard Prize of the Society of Nephrology.
1996 Walter Clawitter Prize of the Heinrich Heine University, Düsseldorf.
1997 Pergamon von Galenus Prize.
2000 Franz Volhard Prize, German Hypertension Society.
2005 Björn Folkow Award, European Society of Hypertension.
2007 Jan Brod Prize, Czech Society of Hypertension.
2014 "Wennerström Lecture" of Göteborg Sahlgrenska University Hospital.
Photo of the doctor: (c) Medizinische Hochschule Hannover (MHH)
Department of Nephrology and Hypertensiology.
Hannover Medical School (MHH):

Request more information now.
We will be happy to answer all your questions.
---
Certificates