Department of Adult and Pediatric Anaesthesiology, Intensive Care (

381393

)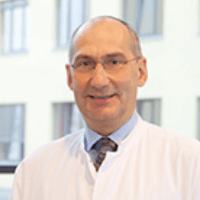 Prof. Dr. med.
Elmar Berendes
Specialized in: adult and pediatric anesthesiology, intensive care
About the department
The Department of Adult and Pediatric Anaesthesiology, Intensive Care at the HELIOS Clinic Krefeld offers the full spectrum of services in these medical fields. The medical team of the department takes care that patients do not experience pain during surgical interventions, and conducts a competent intensive therapy if the patient needs emergency medical care. The department is headed by Prof. Dr. med. Elmar Berendes.
The department has a huge clinical experience in the areas of its specialization, therefore it guarantees the selection of the optimal type of anesthesia, which is based on a thorough study of the patient's medical history, examinations and general health of the patient.
The department uses all modern methods of anesthesia, such as balanced general anesthesia, all forms of regional anesthesia, for example, ultrasound-guided peripheral and spinal nerves block, etc. In addition, the department's scope of tasks includes analgesia during interventional and diagnostic procedures (MRI, CT, angiography, endoscopy), as well as in cardiac emergency situations and in the treatment of patients with severe traumas.
In the intensive care unit, treatment is most often provided either to patients, who have undergone extensive surgical interventions, or to patients with severe injuries. The main task of the specialists is to preserve or temporarily replace the functions of vital organs, such as the lungs, heart or kidneys. To do this, the intensive care unit is equipped with the state-of-the-art medical equipment, whereas the experienced doctors have many modern methods for providing prompt and effective medical care.
It should be noted that the department offers pain therapy. There are available various methods for relieving postoperative pain. The method of pain therapy is selected for each patient individually, depending on the intensity of pain and the type of operation. In most cases, doctors use painkillers (pills) or opioid analgesics, which are injected through a vein. Alternatively, regional anesthesia or patient-controlled analgesia (PCA) may be used.
Special attention is paid to pediatric anesthesia. The department has a specially trained team of pediatric anesthesiologists, who have extensive experience in conducting anesthesia for children of all ages. Every year, the department provides its services to about 3,000 children of different age groups. The department has a separate children's operating room equipped with special respiratory masks for children, mini-cannulas and breathing tubes for children.
The range of medical services of the department includes:
Adult anesthesiology
Balanced anesthesia
Combined anesthesia
Peripheral regional anesthesia
Anesthesia during childbirth
Thoracic epidural anesthesia
Spinal anesthesia
One-lung ventilation for interventions on the thoracic organs
Jet ventilation during operations on the larynx or trachea
And other methods of anesthesia
Pediatric anesthesiology
Anesthesia for children with blood clotting disorders
Anesthesia for children with disabilities
Anesthesia for premature babies and newborns
Total intravenous anesthesia (TIVA)
Balanced anesthesia
Analgosedation for diagnostic examinations
Orotracheal and nasotracheal intubation
Masque anesthesia
Treatment of postoperative nausea
Treatment of airway obstruction
Ultrasound-guided blood vessel puncture
Measures to maintain normal body temperature during anesthesia
Regional anesthesia

Caudal (sacral) anesthesia
Epidural anesthesia (lumbar and thoracic sections) with catheter
Block of the peripheral nerves, upper and lower extremities (ultrasound-guided)

And other methods of anesthesia
Intensive care
Advanced hemodynamic monitoring
Differential therapy with catecholamines
Ultrasound diagnostics (FAST & FEEL, transthoracic and transesophageal echocardiography, thoracic and abdominal ultrasonography)
Differential invasive lung ventilation
High-frequency oscillatory ventilation
Percutaneous dilational tracheostomy
Renal replacement therapy (continuous veno-venous hemofiltration, hemodialysis and citrate dialysis)
Kinetic therapy
Differentiated neuromonitoring (invasive measurement of intracranial pressure, measurement of cerebral perfusion pressure, continuous EEG monitoring)
Neurophysiological examinations (EEG, SSEP, AEP)
All methods of extracorporeal membrane oxygenation and support of myocardium activity
Pacemaker therapy
Video bronchoscopy
Care for patients with severe injuries and multiple injuries
And other services
Curriculum vitae
Since 2014 Transfusion Officer, HELIOS Clinic Krefeld.
Since 2012 Transplantation Officer, HELIOS Clinic Krefeld.
Since 2009 Regional Project Manager, Intensive Care Medicine, HELIOS Kliniken GmbH.
Since 2006 Chairman of the Clinical Ethics Committee, HELIOS Clinic Krefeld.
2009 - 2011 Medical Director, HELIOS Clinic Krefeld.
2007 - 2009 Deputy Medical Director, HELIOS Clinic Krefeld.
Since 9/2005 Director of the Department of Adult and Pediatric Anaesthesiology, Intensive Care, HELIOS Clinic Krefeld.
3/2005

Jobson Visiting Professor, Royal Prince Alfred Hospital, Sydney, Australia, on the occasion of the 75th anniversary of the Chair of the University of Sydney.
2004 August Bier Award and Thieme Teaching Award (German Society of Anaesthesiology and Intensive Care).
2002 - 2012 Member of the Cardiovascular Commission (German Anaesthesia Congress).
2002 Appointment as Associate Professor.
2001 - 2005 Managing Senior Physician of the Department.
2001 - 2005 University Lecturer at WWU Münster.
1998 - 2005 Organisation of teaching and research at the hospital. Restructuring the teaching in accordance with the requirements of the new Medical Licensure Act from the 2003 summer semester into a modular system (two one-week curricula).
1998 Authorisation to teach at universities for the subject of Anaesthesiology and Intensive Care.
1998 Senior Physician, Department of Anaesthesiology, University Hospital Münster.
Establishment of the working group "Clinical Cardiac Anaesthesiology. Inflammation and Immunogenetic Predisposition".
1993 - 1998 Anaesthesiologist, Department of Anaesthesiology, University Hospital Münster.
1991 - 1993 Assistant, Department of Anaesthesiology, University Hospital Münster.
1990 - 1991 Assistant, Department of Anaesthesiology, Clemenshospital GmbH Münster.
1988 - 1989 Assistant, Department of Anaesthesiology, St. Josef Hospital Hagen.
1988 Licence to practice medicine and doctorate in medicine.
Photo of the doctor: (c) Helios Klinikum Krefeld
Department of Adult and Pediatric Anaesthesiology, Intensive Care.
HELIOS Clinic Krefeld:

Request more information now.
We will be happy to answer all your questions.
---