Department of Vascular Surgery (

381400

)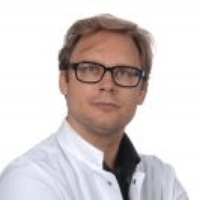 Dr. med.
Gabor Gäbel
Specialized in: vascular surgery
About the Department of Vascular Surgery at HELIOS Clinic Krefeld
The Department of Vascular Surgery at the HELIOS Clinic Krefeld offers the full range of services in this medical focus. The main specialization of the department is the diagnosis and treatment of aneurysms, obliterating atherosclerosis of peripheral arteries, stenoses and installation of port systems. The department is headed by Dr. med. Gabor Gäbel.
To provide an accurate diagnosis, the department has advanced diagnostic methods: ultrasound diagnosis, dopplerography, duplex sonography, oscillography, CT angiography, MR angiography, subtraction angiography, etc.
The department provides an effective treatment of aneurysms. Most often, doctors have to deal with abdominal aortic aneurysm. When diagnosing the aneurysm, it is necessary to accurately determine its location, size and degree of protrusion. To do this, the department uses state-of-the-art ultrasound equipment. In the detection of a small aneurysm, specialists monitor the progression of the pathology. In many cases, to prevent aneurysm growth, it is enough to lead an appropriate lifestyle. The main risk factors include high blood pressure and smoking. If the aneurysm size reaches more than 5 centimeters, the patient needs surgical intervention, since there is a risk of vessel wall rupture, which can lead to irreversible consequences.
The department performs all modern operations to treat aneurysms: stenting (minimally invasive intervention) and open surgeries. In addition, doctors specialize in complex endovascular operations (performed in a specially equipped hybrid operating room), including the removal of aneurysm and thoracic aortic dissection, including the aortic arch, surgical treatment of the entire thoracic and abdominal aorta (thoracoabdominal aneurysms)with the use of individually manufactured stents.
A separate focus of the department is the treatment of obliterating atherosclerosis of peripheral arteries, which affects not only the arteries of the upper and lower extremities, but also arteries that supply blood to the intestine or other internal organs. All modern therapeutic methods for the treatment of this disease are available in the department:
Conservative treatment (drug therapy), which is recommended in the early stages of the disease and covers the intake of drugs that improve blood circulation, elimination of risk factors and training walking
Expansion of vessels with catheters and stents
Open surgical interventions (for example, endarterectomy)
Hybrid interventions (combination of open surgery with catheter placement)
To ensure a safe access to veins, for example, during a long-term chemotherapy or infusion therapy, there is performed implantation of port-systems. The procedure is performed on an outpatient basis under local anesthesia.
The department's range of services is complemented by the treatment of stenosis. Therapeutic options include medical treatment with aspirin, use of medications to reduce blood lipids and regular ultrasound to monitor therapy results. In more severe cases, there is required surgical treatment, such as endarterectomy or stenting.
Curriculum vitae of Dr. med. Gabor Gäbel
1997 - 2004 Study of Medicine at the Semmelweis University in Budapest and at the Medical Faculty of the University of Leipzig.
2004 Medical license.
2004 - 2005 Assistant Physician and Research Fellow at the Institute of Laboratory Medicine, Clinical Chemistry and Molecular Diagnostics, University Hospital Leipzig (Head: Prof. Dr. med. J. Thiery).
2005 Defense of doctoral thesis, Medical Faculty of Leipzig University, note: summa cum laude.
2005 - 2012 Further Training for Medical Specialist, Department of Abdominal, Thoracic and Vascular Surgery, University Hospital Carl Gustav Carus Dresden (Head: Prof. Dr. med. H. D. Saeger).
2010 Medical Specialist in Surgery.
2013 Main specialization: vascular surgery.
2012 - 2017 Senior Physician of the Section for Vascular Surgery of the Department of General, Abdominal, Vascular and Transplantation Surgery, University Hospital Munich (Head: Prof. Dr. med. J. Werner).
Since 2017 Chief Physician of the Department of Vascular Surgery at the HELIOS Clinic Krefeld.
Photo of the doctor: (c) Helios Klinikum Krefeld
Department of Vascular Surgery.
HELIOS Clinic Krefeld:

Request more information now.
We will be happy to answer all your questions.
---