Department of Pediatric Surgery (

384357

)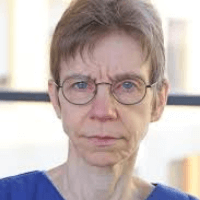 Dr. med.
Karin Lawrenz
Specialized in: pediatric surgery
About the Department of Pediatric Surgery at HELIOS Clinic Krefeld
The Department of Pediatric Surgery at the HELIOS Clinic Krefeld offers the full range of services in this medical field. The department is headed by Dr. med. Karin Lawrenz.
The main activities cover the surgery of premature babies, newborns and infants, surgical treatment of injuries, malformations, abdominal surgery in children and adolescents. The medical team of the department easily finds a common language with young patients, providing not only excellent medical services, but also support, friendly atmosphere.
The department's spectrum of medical services covers diagnostics and surgical treatment of the following pathological conditions in children and adolescents:
Injuries

All types of burns
Skin and soft tissue lesions
Fractures (also open, accompanied by soft tissue damage)
Thoracic and abdominal injuries
Brain concussion
Other injuries

Surgery in preterm neonates, newborns and infants

Inguinal hernia
Congenital gastric outlet stenosis (hypertrophic pyloric stenosis)
Intestinal diseases (for example, necrotizing enterocolitis)
Volvulus
Intestinal perforation
Intussusception
Other diseases

Abdominal diseases

Umbilical hernia
Epigastric hernia
Gastroesophageal reflux
Appendicitis
Meckel's diverticulum
Intussusception
Bowel obstruction
Acute abdomen
Liver biopsy (open, laparoscopic or ultrasound-guided)
Abdominal tumors
Other diseases

Developmental defects in children and adolescents

Congenital abdominal wall defects (for example, gastroschisis, omphalocele)
Malformations of the digestive tract (for example, esophageal atresia)
Congenital bowel obstruction (intestinal atresia)
Anorectal malformations (for example, anal atresia, fistulae, cloaca)
Intestinal malrotation
Rectal malformations (for example, Hirschsprung's disease)
Extra fingers and toes (polydactyly)
Trigger fingers
Other diseases
Photo of the doctor: (c) Helios Klinikum Krefeld
Department of Pediatric Surgery.
HELIOS Clinic Krefeld:

Request more information now.
We will be happy to answer all your questions.
---