Department of Adult and Pediatric Neurosurgery (

384359

)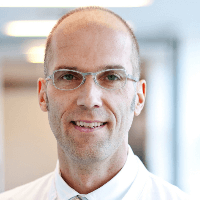 Prof. Dr. med.
Michael Stoffel
Specialized in: adult and pediatric neurosurgery
About the Department of Adult and Pediatric Neurosurgery at HELIOS Clinic Krefeld
The Department of Adult and Pediatric Neurosurgery at the HELIOS Clinic Krefeld offers the full range of services in this medical field. The specialists of the department have the very latest surgical techniques and innovative technical equipment, which guarantees excellent quality of treatment. The department is headed by Prof. Dr. med. Michael Stoffel.
The main attention is paid to the diagnosis and surgical treatment of tumors of the brain and meninges, functional disorders of the central nervous system, acute and chronic diseases of the vessels of the brain and spinal cord, diseases of the peripheral nervous system, spinal diseases in adults and children.
Surgical treatment of oncological diseases of the nervous system is a particularly complex process, since the task of surgeons is not only to remove the tumor, but also to preserve all neurological functions. Each patient receives an individual treatment plan developed with due consideration of the recognized guidelines and international standards. For an effective surgery planning, its performance and subsequent treatment, there is maintained interdisciplinary cooperation with many specialists from the related medical fields. In addition to a wide range of surgical interventions, here are offered alternative treatment options, for example, targeted radiation therapy – Gamma Knife treatment.
The department offers both diagnostics and treatment of the following diseases:
Neurosurgical diseases in adults

Gliomas
Meningiomas
Vestibular schwannomas (acoustic neuromas)
Pituitary adenomas
Metastases
Chronic pain syndrome
Pain in the head, face, back, groin and other types of neuralgia
Angina pectoris
Diseases of the peripheral arteries
Incontinence
Epilepsy
Movement disorders
Parkinson's disease, tremor or dystonia
Stroke
Subarachnoid haemorrhage
Aneurysms
Brain hemorrhage
Arteriovenous malformations, fistulas and cavernomas
Neurovascular compression
Carpal tunnel syndrome
Cubital tunnel syndrome
Scalenus anticus syndrome
Guyon's canal syndrome
Bernhardt‐Roth syndrome
Morton's metatarsalgia
And other diseases

Neurosurgical diseases in children and adolescents

Brain and spinal cord tumors
Malformations of the spine and skull
Hydrocephalus
Vascular malformations
Craniosynostosis (defects in the face and skull)
Functional disorders (for example, spasticity)
Injuries and convulsions
Other pediatric neurosurgical diseases
The range of medical services of the department includes:
Microsurgical interventions
Neuronavigation
Neuroendoscopy
Tumor resection with the use of intraoperative fluorescence (5-ALA)
Surgeries in a state of wakefulness
Intraoperative electrophysiological monitoring
Intraoperative ultrasound diagnosis
Navigation-guided biopsy
Epidural spinal cord stimulation
Peripheral nerve stimulation
Deep brain stimulation
Motor cortex stimulation
Sacral nerve stimulation
And other treatment methods
Curriculum vitae of Prof. Dr. med. Michael Stoffel
1988 - 1995 Medical education at the Ludwig Maximilian University of Munich.
25/06/1998 Doctoral Thesis: "The Experimental Vasogenic Cerebral Oedema: Therapeutic Inhibition with the Cl–Transport Inhibitor Torasemide, the Neuropeptide-Y-Antagonist PP56 and -Tocopherol", summa cum laude.
15/05/2003 Medical Specialist in Neurosurgery.
07/07/2004 Thesis, Venia Legendi for Neurosurgery at the Friedrich Wilhelms University of Bonn.
21/08/2004 EANS European Examination (Part 1).
11/12/2009 Additional Qualification in Spinal Neurosurgery by the NCAFW.
07/07/2010 Associate Professor at the Technical University of Munich.
16/05/2012 Voluntary postgraduate training, Special Neurosurgical Intensive Care.
10/04/2013 Additional qualification, Vascular Neurosurgery by the NCAFW.
22/08/2014 Master Certificate of the German Spinal Surgery Society (DWG).
Professional Career
5/95 - 2/97 Research Fellowship, Institute for Surgical Research (Head: Prof. Dr. Dr. h.c. mult. K. Messmer), Clinic Großhadern, Ludwig Maximilians University of Munich.
9/96 - 1/97 Research cooperation with the Fraunhofer Institute for Biomedical Technique, St. Ingbert (Head: Prof. Dr. K. Gersonde).
3/97 - 2/06 Attending Resident, Department of Neurosurgery of the Rhenish Friedrich Wilhelm University of Bonn (Head: Prof. Dr. J. Schramm).
7 - 8/99 Physician at the Department of Neurosurgery, Mannheim (Head: Prof. Dr. P. Schmiedek).
Since 10/04 Senior Physician.
Since 9/05 Head of the Section for Spinal Surgery, Department of Neurosurgery, University Hospital Bonn.
Since 3/06 Deputy Head, Department of Neurosurgery, Hospital rechts der Isar, Technical University of Munich (Head: Prof. Dr. B. Meyer).
Since 8/11 Head of the Department of Adult and Pediatric Neurosurgery, HELIOS Clinic Krefeld.
Photo of the doctor: (c) Helios Klinikum Krefeld
Department of Adult and Pediatric Neurosurgery.
HELIOS Clinic Krefeld:

Request more information now.
We will be happy to answer all your questions.
---