Department of Pulmonology and Sleep Medicine (

384364

)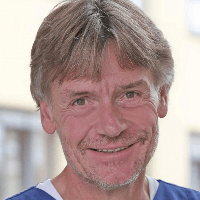 Dr. med.
Manuel Streuter
Specialized in: pulmonology, sleep medicine
About the department
The Department of Pulmonology and Sleep Medicine at the HELIOS Clinic Krefeld offers the full range of services in these medical fields. Here are conducted modern examinations, which allow to make an accurate diagnosis and select the best treatment method. Of particular interest is the treatment of pneumonia (lung inflammation), dyspnea, COPD, emphysema and sleep disorders. The department is headed by Dr. med. Manuel Streuter.
The diagnosis of lung diseases is based on pulmonary function testing, which allows to determine speed and volume indicators, gas exchange rates, respiratory muscle functions, etc. In addition, the department carries out many other diagnostic examinations: spirometry, whole-body plethysmography, measurement of the strength of the respiratory muscles, measurement of the diffusing capacity of the lungs, spiroergometry, 6-minute walk test, bronchoscopy and others.
The range of medical services of the department includes:
Diagnosis and treatment of all forms of lung inflammation (pneumonia)
Diagnosis and treatment of tuberculosis
Diagnosis and treatment of suffocation
Diagnosis and treatment of COPD and emphysema

Drug therapy
Oxygen therapy
Artificial lung ventilation (with a mask, non-invasively)
Endoscopic operation to reduce lung volume
Open lung volume reduction surgery
Other treatments

Bronchoscopy

Flexible and rigid bronchoscopy (including sampling for histological, cytological and microbiological examinations)
Bronchoalveolar lavage
Endobronchial ultrasound and ultrasound-guided biopsy (EBUS-TBNA)
Autofluorescence bronchoscopy
Interventional therapy for the treatment of bronchial diseases (argon plasma coagulation, laser therapy, cryotherapy, recanalization, stenting)
Ultrasound of the pleural cavity
Pleural puncture for diagnostic and therapeutic purposes, including drainage placement
Percutaneous lung puncture
Internal thoracoscopy (imaging of the thorax) with pleurodesis
Other procedures

Weaning, including a long-term weaning
Other diagnostic and therapeutic services
Curriculum vitae
1977 - 1978 Study of Medicine, Johannes Gutenberg University Mainz.
1978 - 1984 Study of Medicine, RWTH Aachen.
29.10.1984 Medical License, local government of Aachen.
1985 - 1987 Intern of the Department of Anaesthesiology, St. Augustinus Hospital, Düren.
1988 Qualified as Medical Practitioner in Emergency Medical Services.
1987 - 1991 Intern of the Departments of Internal Medicine I and II, HELIOS Clinic Krefeld.
1991 Medical Specialist in Internal Medicine.
1992 Medical Specialist in Pulmonology.
1993 Additional qualification in Allergology.
1991 - 1994 Intern of the Department of Pulmonology and Allergology, Ruhrland Hospital, Essen.
1995 - 2001 Chief Physician of the Department of Internal Medicine I, HELIOS Clinic Krefeld.
2006 Additional qualifications in Sleep Medicine and Internal Intensive Care Medicine.
Since 2002 Chief Physician of the Department of Pulmonology and Sleep Medicine, HELIOS Clinic Krefeld.
Photo of the doctor: (c) Helios Klinikum Krefeld
Department of Pulmonology and Sleep Medicine.
HELIOS Clinic Krefeld:

Request more information now.
We will be happy to answer all your questions.
---