Department of Adult and Pediatric Urology (

384366

)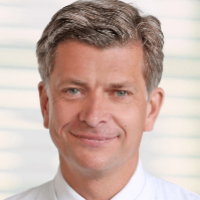 Prof. Dr. med.
Martin Friedrich
Specialized in: adult and pediatric urology
About the Department of Adult and Pediatric Urology at HELIOS Clinic Krefeld
The Department of Adult and Pediatric Urology at the HELIOS Clinic Krefeld offers the full range in these medical focuses. The department specializes in the diagnosis and treatment of all diseases of the urogenital tract in adults and children. Of particular interest is the treatment of benign prostatic hyperplasia, prostate cancer, bladder stones and urinary incontinence. Only safe innovative methods of therapy are used here. The department is headed by Prof. Dr. med. Martin Friedrich.
One of the most common diseases in men is benign prostatic hyperplasia. In the early stages of pathology, drug treatment is mostly used, while advanced stages require surgical treatment.
Prostate cancer treatment is a complex process. The main and most accurate diagnostic method for this pathology is MRI and MRI-guided biopsy. The purpose of surgical treatment is not only to remove the neoplasm, but also to preserve the nerves of the penis. Consequently, surgeons plan each operation with special care, calculating the smallest nuances. To do it, they use advanced, high-precision imaging equipment. The surgical intervention is quite often supplemented with conservative treatments, for example, radiation therapy, chemotherapy, hormonal therapy. Any therapeutic intervention is prescribed to each patient individually, with due consideration of a specific clinical situation. It should be noted that the department is actively involved in research activities, so another alternative is to participate in clinical trials on prostate cancer treatment.
In the field of pediatric urology, there are provided both diagnosis and treatment of all congenital and acquired diseases of the kidneys, bladder and external genitalia in children and adolescents. Most often, the specialists of the department have to deal with such pediatric diseases as expansion of the renal pelvis, urinary incontinence in children, including bedwetting, periodic urinary tract infections, congenital malformations, for example, hypospadias, phimosis, undescended testes, etc.
The range of medical services of the department includes:
Benign prostatic hyperplasia
Laser enucleation of the prostate
Minimally invasive procedure TURis
Open surgical interventions (in especially severe cases)
Prostatic artery embolization (often used to treat elderly patients)
And other treatment methods
Prostate cancer
Chemotherapy
Radiation therapy
Hormonal therapy
Surgical interventions (in most cases, nerve-preserving)
Participation in clinical trials (if desired)
And other treatment methods
Kidney stone disease
Ureteroscopy (endoscopic method for removing or breaking ureteral stones through the urethra)
Percutaneous nephrolithotomy (Mini-PCN)
Extracorporeal shockwave lithotripsy
And other treatment methods
Urinary incontinence
Conservative treatments

Physical exercises to strengthen the muscles of the pelvic floor
Biofeedback
Use of pessaries
Drug therapy
Topical therapy
Other treatment options

Minimally invasive interventions to treat urinary incontinence in women

TVT implantation
Injections of colloidal solutions
Other methods

Minimally invasive interventions to treat urinary incontinence in men

Advance Band for the treatment of incontinence
Sphincter replacement (in severe forms of incontinence)
Other methods

Neurogenic urination disorders

Botulinum toxin injections
Nerve stimulation (sacral neuromodulation, bladder stimulant)
Other treatments

Reconstructive pelvic floor surgery

In fistulas
In weakened pelvic floor muscles
In weakened bladder sphincter
Conservative and surgical treatment of pediatric urological diseases
Extension of the renal pelvis
Urinary incontinence in children (including bedwetting)
Extension of the pelvis
Urinary incontinence in children
Malformations of the genitourinary system

Hypospadias
Phimosis
Undescended testis

Other pediatric diseases
Photo of the doctor: (c) Helios Klinikum Krefeld
Department of Adult and Pediatric Urology.
HELIOS Clinic Krefeld:

Request more information now.
We will be happy to answer all your questions.
---