Helios Hospital Berlin-Buch
Department of General, Abdominal Surgery and Surgical Oncology (

594908

)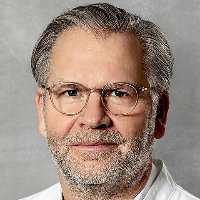 Prof. Dr. med.
Martin Strik
Specialized in: general, abdominal surgery, surgical oncology
About the Department of General, Abdominal Surgery and Surgical Oncology at Helios Hospital Berlin-Buch
The Department of General, Abdominal Surgery and Surgical Oncology at the Helios Hospital Berlin-Buch offers the full range of services in these medical fields. Whenever possible, operations are performed using minimally invasive techniques, which are the gold standard of modern surgery. The outstanding quality of medical care is confirmed by numerous prestigious certificates, including certificates from the German Cancer Society, the German Hernia Society, etc. In addition, the department provides innovative hyperthermic intraperitoneal chemotherapy (HIPEC), which is available only in the most progressive clinics in Europe. The Chief Physician of the department is Prof. Dr. med. Martin Strik.
One of the key focuses of the department is the treatment of peritoneal tumors, abdominal metastasis and sarcomas. The basis of clinical practice is the use of the most sparing and at the same time the most effective therapeutic methods. The doctors of the department work closely with specialists in the field of chemotherapy and radiation therapy. Thus, each patient receives treatment according to the optimal, individually developed plan. Special treatment methods in this area include intraoperative electron radiation therapy (targeted destruction of cancer cells, which provides optimal protection for healthy tissue and neighboring organs), hyperthermic intraperitoneal chemotherapy (chemotherapy, during which the abdominal cavity is washed with a warm chemotherapeutic solution that kills the remaining tumor cells after surgery) and pressurized intraperitoneal aerosol chemotherapy (a special chemotherapeutic solution is injected into the abdominal cavity, after which it penetrates into all areas affected by the tumor). These treatment methods are used only in highly specialized leading clinics in the world.
Hepatobiliary surgery also occupies an important place in the work of the department. The doctors of this field treat liver, gallbladder and bile duct tumors. Before the appointment of a particular operation, the patient will undergo a CT scan, which allows to get a three-dimensional image of the organ and plan the intervention as accurately as possible. The therapeutic options in this area include tumor resection, radiofrequency ablation, transarterial chemoembolization, selective internal radionuclide therapy, stereotactic radiotherapy and many other treatment methods.
The department's range of medical services includes:
Surgical treatment of abdominal tumors, metastasis and sarcomas

Intraoperative electron radiation therapy
Pressurized intraperitoneal aerosol chemotherapy
Hyperthermic intraperitoneal chemotherapy (HIPEC)

Surgical treatment of diseases of the thyroid gland, adrenal gland and pancreas

Chronic pancreatitis
Pancreatic tumors
Adrenal tumors
Thyroid tumors, including medullary cancer
Nodular goiter
Hyperthyroidism
Goiter, including relapsing forms
Malignant diseases of the parathyroid glands
Hyperfunction of the parathyroid glands (hyperparathyroidism)
Multiple endocrine neoplasia in men

Minimally invasive video-assisted surgery (MIVA)
Surgery using bilateral axillary-breast access

Hepatobiliary surgery

Surgical resection
Radiofrequency ablation
Transarterial chemoembolization
Selective internal radionuclide therapy
Stereotactic radiation therapy
Intraoperative radiation therapy
Perioperative chemotherapy

Surgery for inguinal hernias and anterior abdominal wall hernias

Classic open surgery
Minimally invasive surgery

Surgical treatment of bowel disease, fecal incontinence

Inflammatory bowel disease

Crohn's disease
Ulcerative colitis

Rectal and anal diseases

Anal fissures
Anal fistula
Anal carcinoma, colon and rectal cancer (treatment within a certified center)
Perianal venous thrombosis
Diverticulitis
Hemorrhoids
Condylomas/genital warts (surgical removal or laser therapy)
Rectal prolapse (minimally invasive anal surgical procedure with direct access or access through the abdominal cavity)
Pilonidal sinus
Impaired bowel movements
Rectocele

Pelvic floor muscle disorders and fecal incontinence

Sling procedures
Neuromodulation (stimulation) of the nerve roots of the sacral spinal cord
Artificial urethral sphincter implantation
Surgery for rectal prolapse and fistula
Muscle relaxant injections for irritated bladder and pelvic floor muscle tension
Bladder enlargement
Artificial urine diversion

Malignant tumors of the small, large intestines and rectum

Surgical treatment of inflammatory processes of the cecum and gallbladder (mainly minimally invasive surgery)
Endoscopic and minimally invasive surgery
Other treatments
Curriculum vitae of Prof. Dr. med. Martin Strik
Higher Education and Professional Career
1981 - 1987 Medical studies, Medical School at the University of Wuerzburg (Germany) and Bern (Switzerland).
11.1987 Final Exam and Admission to Medical Practice.
1988 - 1989 Resident, Institute for Pathology, University Hospital Wuerzburg.
1989 Postdoctoral Fellow, Detection of HHV 6 in Malignant Lymphoma.
1989 - 1994 Resident, Department of Surgery, University Hospital Freiburg.
1990 - 1991 Institute for Molecular Cell Biology, University of Freiburg: "Expression of VEGF in Colon Carcinoma".
1994 - 2003 Department of Surgery, University Hospital Luebeck.
1996 Board Certification in Surgery, Consultant at the Department of Surgery, University Hospital Luebeck.
1998 Thesis: "Expression of the Vascular Endothelial Growth Factor (VEGF) in Colon Carcinoma".
1997 - 1998 Fellowship in Vascular Surgery, Consultant for Vascular Surgery.
1998 Head of the Transplant Unit with a focus on Kidney and Pancreas Transplants.
1999 - 2000 "Total Quality Management in Medicine" Training.
1999 - 2003 Speaker of the German Consortium for Hereditary Non-Polyposis Colorectal Cancer.
2001 - 2003 Speaker of the Section of Molecular Oncology, German Society of Surgery.
1999 - 2001 Fellowship in Abdominal Surgery.
2003 - 2005 Head of the Department of General, Abdominal and Vascular Surgery at the St. Elisabeth Hospital Straubing, Germany.
Since October 2005 Head of the Department for General, Abdominal Surgery and Surgical Oncology at the Helios Hospital Berlin-Buch.
2008 - 2014 President of the German Association for Minimal Invasive Surgery.
Clinical and Research Interests
Surgical oncology.
Minimal invasive surgery.
Surgical oncology of the upper and lower gastrointestinal tract.
Pancreatic and hepatic surgery.
Esophageal and stomach surgery.
Colorectal surgery (malignant and benign tumors).
Soft tissue tumors (sarcomas).
Coloproctology.
Endocrine surgery.
Scarless thyroid surgery.
Incisional hernia surgery.
Photo of the doctor: (c) Helios Klinikum Berlin-Buch
Department of General, Abdominal Surgery and Surgical Oncology.
Helios Hospital Berlin-Buch:

Request more information now.
We will be happy to answer all your questions.
---
Certificates