Helios Hospital Berlin-Buch
Department of Trauma and Hand Surgery (

594926

)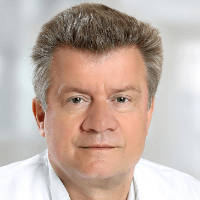 Dr. med.
Uwe-Jens Tessmann
Specialized in: trauma and hand surgery
About the Department of Trauma and Hand Surgery at Helios Hospital Berlin-Buch
The Department of Trauma and Hand Surgery at the Helios Hospital Berlin-Buch provides the full range of medical services for the treatment of musculoskeletal injuries, as well as hand injuries and diseases. In addition, the department specializes in the treatment of highly severe injuries. The treatment is carried out both in inpatient and outpatient settings. The department is certified as the Supraregional Trauma Centre by the German Trauma Society. The department is headed by Dr. med. Uwe-Jens Tessmann.
The department widely applies arthroscopic interventions to treat joint injuries. During such operations, the surgeon performs a small incision, through which he inserts a miniature camera. This allows the doctor to visually control all the manipulations. Another incision serves for the insertion of miniature instruments into the joint area. Arthroscopic operations are sparing option of surgery, so in many cases the patient can be discharged on the second day after the operation. The department's surgeons perform such interventions for the treatment of knee meniscal injuries, osteochondritis dissecans, cartilage lesions and other pathological conditions.
The successful treatment of injuries requires an integrated approach – from the primary care to reintegration into everyday life. In this regard, the department's doctors offer not only treatment of injuries, but also follow-up rehabilitation measures, including physiotherapy, occupational therapy, psychological support, comprehensive multimodal treatment (anesthesia, scar revision) and specialized rehabilitation (in cooperation with the Rehabilitation Centers).
To treat hand injuries, the department mostly uses microsurgical techniques. The department's surgeons also have extensive experience in the field of replantation surgery and reconstructive hand surgery. In this case, priority is given to the preservation of all functions of the hand. In addition to urgent interventions, the doctors also perform planned hand surgeries (many of which can be performed on an outpatient basis, without obligatory hospitalization). The doctors have special competencies in the treatment of carpal tunnel syndrome, trigger fingers and Dupuytren's contracture.
The department's range of medical services includes:
Trauma surgery

Treatment of bone fractures
Treatment of occupational injuries or injuries sustained in traffic accidents
Treatment of vertebral fractures, injuries and spinal instability
Treatment of complications caused by spinal injuries (corrective osteotomy)
Minimally invasive stabilization of vertebral fractures in osteoporosis by means of bone cement introduction
Arthroscopic surgery of small and large joints (especially of the hand, knee, shoulder, elbow and hip joints)
Emergency and intensive care in injuries
Treatment of injuries in elderly patients (geriatric traumatology)

Hand surgery

Treatment of acute hand injuries (including microsurgical techniques)
Hand replantation surgery
Reconstructive hand surgery after injuries
Planned hand interventions (for example, for the treatment of carpal tunnel syndrome, trigger fingers, Dupuytren's contracture)

Other medical services
Photo of the doctor: (c) Helios Klinikum Berlin-Buch
Department of Trauma and Hand Surgery.
Helios Hospital Berlin-Buch:

Request more information now.
We will be happy to answer all your questions.
---
Certificates