Helios Hospital Berlin-Buch
Department of Adult and Pediatric Diagnostic, Interventional Radiology (

594928

)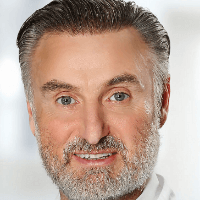 Prof. Dr. med.
Thomas Herold
Specialized in: adult and pediatric diagnostic, interventional radiology
About the Department of Adult and Pediatric Diagnostic, Interventional Radiology at Helios Hospital Berlin-Buch
The Department of Adult and Pediatric Diagnostic, Interventional Radiology at the Helios Hospital Berlin-Buch offers all modern methods of high-precision imaging diagnostics and minimally invasive imaging-guided therapeutic procedures. The department meets all radiation protection standards, which are especially important in the diagnostics of children and adolescents. The basis of successful clinical practice of the medical facility is a progressive technological base and the best highly qualified specialists. The department is headed by Prof. Dr. med. Thomas Herold.
One of the department's priority focuses is imaging diagnostics and interventional therapy of bone tumors and soft tissue sarcomas. To detect these types of neoplasms, the doctors use such examinations as sonography, classical radiography, computed tomography and magnetic resonance imaging. The service range is complemented by endovascular diagnostic procedures for the detection of benign soft tissue tumors (such examinations are carried out within the modern hybrid operating rooms), as well as PET-CT skeletal imaging (in collaboration with the Department of Nuclear Medicine). The therapeutic options in this field cover many minimally invasive CT-guided interventions, particularly, tumor biopsy, radiofrequency ablation for the treatment of osteoid osteomas, endovascular interventions (for example, embolization of hemangiomas).
It is worth noting that the department's diagnostic rooms have special medical equipment adapted for conducting examinations in children. Young patients can undergo such examinations as ultrasound scanning, classic radiography, fluoroscopy, CT and MRI. Depending on the specific clinical indications, the diagnostic methods are prescribed to each child individually. The diagnostic process also often involves the participation of necessary specialists from the Department of Pediatric and Adolescent Medicine.
The department's range of medical services includes:
Diagnostic radiology

Classic radiography
Ultrasound examinations (also with contrast enhancement)
Computed tomography (also with contrast enhancement)
Magnetic resonance imaging (also with contrast enhancement)
Fluoroscopy
Myelography
Arthrography
Angiography (also with contrast enhancement)

Pediatric radiology

Classic radiography
Ultrasound diagnostics
Fluoroscopy
Computed tomography
Magnetic resonance imaging

Interventional radiology

CT-guided biopsy (for example, for the detection of causes of lymphadenopathy, metastasis of cancer of unknown primary, metastasis in multiple tumors for treatment planning)
Diagnostic nerve ending and joint blocks for the detection of the cause of pain and therapeutic block for its elimination
Drainage of abscesses and cysts (for example, in Crohn's disease in order to avoid open surgery)
Radiofrequency ablation for tumor destruction
Interventional procedures for CT-guided treatment of lymphocele
Percutaneous CT-guided insertion of feeding tubes into the stomach
Interventional procedures for the treatment of vascular obstruction

Occlusive peripheral arterial disease
Renal artery stenosis in uncontrolled arterial hypertension or impaired kidney function
Aortic intestinal stenosis
Dialysis graft occlusion or stenosis
Thromboses
Embolisms
Superior vena cava syndrome with venous blood stagnation (for example, in cancers or after irradiation)

Catheter therapeutic procedures

Classical balloon angioplasty
Implantation of drug-coated stents
Implantation of classic stents (including flexible and self-expanding ones)
Atherectomy
Mechanical thrombectomy (removal of blood clots)
Classical thrombolysis (blood clot dissolution)
Ultrasound-guided thrombolysis
Catheter treatment of chronic vascular occlusion

Minimally invasive treatment of aneurysms (helix placement)
Therapeutic procedures for blood vessel closure

Benign or malignant tumors (for example, angiomyolipomas)
Varicocele
Impaired venous outflow
Vascular malformations
Arteriovenous malformations
Elimination of endoleaks after vascular prosthetics

Installation of port systems for chemotherapy, dialysis procedures, parenteral nutrition, etc.
Highly specialized procedures

Radiofrequency ablation of the renal artery in poorly controlled arterial hypertension
Implantation of cava filters into the inferior vena cava for the prevention of pulmonary embolism
Extraction of foreign bodies from the vascular system

Transarterial chemoembolization, radiofrequency ablation and selective internal radiation therapy for the treatment of liver tumors

Other diagnostic and therapeutic options
Photo of the doctor: (c) Helios Klinikum Berlin-Buch
Department of Adult and Pediatric Diagnostic, Interventional Radiology.
Helios Hospital Berlin-Buch:

Request more information now.
We will be happy to answer all your questions.
---
Certificates