Helios Hospital Berlin-Buch
Department of Vascular Surgery (

594940

)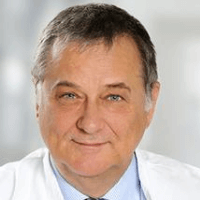 Dr. med.
Andreas Gussmann
Specialized in: vascular surgery
About the Department of Vascular Surgery at Helios Hospital Berlin-Buch
The Department of Vascular Surgery at the Helios Hospital Berlin-Buch offers the full range of diagnostics and surgical treatment of vascular diseases. The key to successful clinical practice of the medical facility is the availability of state-of-the-art surgical techniques and the vast experience of doctors. The vascular pathologies are treated using sparing minimally invasive techniques. The department's competence also includes emergency medical care (around the clock). The department is headed by Dr. med. Andreas Gussmann.
Each patient in the department is provided with customized medical care of the highest standard. The department is part of the Berlin-Buch Vascular Center, within which it closely cooperates with specialists in the field of angiology, diabetology, cardiology, nephrology, radiology and neuroradiology. Thus, the department can provide the comprehensive treatment, taking into account all the specificities of each clinical case.
The department's range of medical services includes:
Diagnostic services

Examinations of the arterial and venous vascular system using dopplerography and duplex sonography
Color Doppler ultrasonography to determine blood flow velocity
Invasive diagnostics for the accurate contrast-enhanced vascular imaging
Angiography, computed tomography (CT) and magnetic resonance imaging (MRI)
Physiological examination of blood coagulation

Treatment of vascular patency

Treatment of abdominal aortic aneurysms, aneurysms of the vessels of the upper and lower limbs
Vascular prosthetics
Endovascular interventions using catheter techniques for the treatment of aneurysms
Endovascular interventions for vascular dilatation in case of occlusion (for example, in thrombosis)
Percutaneous transluminal angioplasty
Balloon dilatation and stent implantation
Drug therapy for blood-clotting disorders to reduce the risk of thrombosis

Treatment of varicose veins

Stripping and vein removal
Plastic interventions to correct the effects of varicose veins
Conservative treatments (for example, infusion therapy, physiotherapy)

Vascular bypass surgery
Carotid interventions

Surgical treatment of carotid stenosis
Carotid interventions to reduce stroke risk
Carotid prosthetics

Formation of the access for dialysis, chemotherapy and infusion therapy
Follow-up care

Intensive care and monitoring after complex surgery
Individual pain therapy after surgery

Other diagnostic and therapeutic options
Photo of the doctor: (c) Helios Klinikum Berlin-Buch
Department of Vascular Surgery.
Helios Hospital Berlin-Buch:

Request more information now.
We will be happy to answer all your questions.
---
Certificates