Helios Hospital Berlin-Buch
Department of Pediatric Orthopedics and Neuro-Orthopedics (

594948

)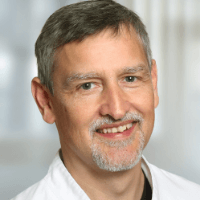 Dr. med.
Matthias Rogalski
Specialized in: pediatric orthopedics, neuro-orthopedics
About the Department of Pediatric Orthopedics and Neuro-Orthopedics at Helios Hospital Berlin-Buch
The Department of Pediatric Orthopedics and Neuro-Orthopedics at the Helios Hospital Berlin-Buch provides the accurate diagnostics and comprehensive treatment of musculoskeletal diseases in children and adolescents, including neurological pathologies accompanied by orthopedic disorders and complications. The doctors of the department work closely with specialists in the field of pediatrics, pediatric surgery and orthopedics. In addition to quality treatment, young patients are offered a special rehabilitation program with the elements of games. The department is headed by Dr. med. Matthias Rogalski.
The treatment of orthopedic diseases in children requires special medical knowledge and experience, since the task of a pediatric orthopedist is not only to restore the health of the child, but also to ensure his proper development and growth. The department's experts have in their arsenal many special treatment methods that are most effective for a growing child's body. Preference is given to an integrated approach, which means that the treatment process involves the participation of pediatric orthopedists, physiotherapists, occupational therapists, speech therapists, rehabilitologists and specially trained nursing staff. Each clinical case is unique, so the doctors develop treatment tactics on an individual basis.
The department's range of medical services includes:
Diagnostics and treatment of congenital musculoskeletal diseases

Ultrasound diagnostics in infants
Conservative and surgical treatment of hip dysplasia
Conservative and surgical treatment of clubfoot
Interdisciplinary treatment of systemic diseases (for example, cerebral palsy)
Treatment for uncontrolled bone growth (bone exostosis)

Reconstructive surgery for orthopedic diseases

Correction of joint and foot deformities
Correction of the O-shaped and X-shaped deformities of the lower extremities, leg length discrepancy
Lengthening of the lower extremities using modern Magec rod systems for internal fixation and external fixation devices
Correction of axial deformities of tubular bones
Treatment of aseptic bone necrosis (for example,, Perthes disease)

Arthroscopic surgery

Sparing interventions for knee, ankle and hip injuries
Sanitation for infectious joint lesion

Conservative and surgical treatment of bone fractures

Casting
Treatment using special internal and external fixators

Treatment of osteogenesis imperfecta

Minimally invasive interventions
Fracture treatment, including rod intramedullary osteosynthesis, growing metal rod implantation

Treatment of diseases of the femoral neck and head

Treatment of juvenile necrosis of the femoral head
Treatment of juvenile epiphysiolysis

Treatment of musculoskeletal cancers

Surgical treatment of benign neoplasms
Surgical treatment of malignant neoplasms (in collaboration with specialists in pediatric oncology and orthopedic oncology)

Other diagnostic and therapeutic services
Photo of the doctor: (c) Helios Klinikum Berlin-Buch
Department of Pediatric Orthopedics and Neuro-Orthopedics.
Helios Hospital Berlin-Buch:

Request more information now.
We will be happy to answer all your questions.
---
Certificates