HELIOS University Hospital Wuppertal
Department of Cardiology (

384367

)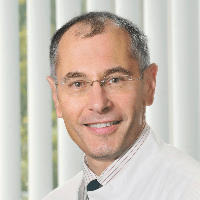 Prof. Dr. med.
Melchior Seyfarth
Specialized in: cardiology
About the department
The Department of Cardiology offers the whole range of modern cardiology, ranging from corrective diagnostics and restoration of coronary vessel patency up to the implantation of artificial heart valves. For the treatment of cardiological problems, the HELIOS University Hospital Wuppertal has advanced, proven catheterization methods (for example, TAVI, Mitra-Clip and others). The department is headed by Prof. Dr. med. Melchior Seyfarth.
The department has four cardiac catheterization laboratories and a hybrid operating room. The hybrid operating room is a combination of a cardiological operating room and a fully equipped cardiac catheterization laboratory with an area of 150 square meters, for the creation of which there was spent about 1.8 million euros, and which was put into operation in 2012. To date, the department's hybrid operating room is the latest achievement in the field of large Cardiology Centers.
Thus, the Cardiology Center has four special desks for left heart catheterization at the level of the latest medical achievements (3D-imaging of coronary vessels), four operating rooms and a hybrid operating room.
This provides significant benefits for patients. For example, the time of complex interventional and operational procedures is reduced due to the simultaneous actions of cardiologists and cardiac surgeons. Thanks to this, the interventions are performed with greater safety and with less stress for the patient. This means, in particular, a great advantage for high-risk patients who could not undergo conventional interventions before due to their unstable general condition.
The hybrid operating room allows for the implementation of a wide range of services ranging from the treatment of aortic valve stenosis up to the treatment of acute coronary vascular diseases.
According to the prestigious magazine FOCUS, the Department of Cardiology ranks among the top clinics in Germany in the field of cardiology and cardiac surgery in 2018!
The main focuses of the Department of Cardiology:
Diagnosis and treatment of chest pain
Echocardiography
Cardiac catheterization
Intensive care medicine
Cardiopulmonary functional diagnostics
Cardiac CT
Cardiac MRI
Diagnosis and treatment of heart rhythm disorders
Radioisotope diagnostics
And others.
Curriculum vitae
Professional Experience
1999 - 2010 Consulting Physician and Associate Professor in the Department of Cardiology, German Cardiology Center in Munich at the Hospital of the Technical University of Munich.
Since 2010 Chief Physician and Professor in the Department of Cardiology, HELIOS University Hospital Wuppertal.
Education
1982 - 1990 Study of Medicine at the Ruprecht Karl University of Heidelberg.
1989 - 1989 Harvard Medical School.
Photo of the doctor: (c) Helios Universitätsklinikum Wuppertal
Department of Cardiology.
HELIOS University Hospital Wuppertal:

Request more information now.
We will be happy to answer all your questions.
---