HELIOS University Hospital Wuppertal
Department of Endocrine Surgery (

384377

)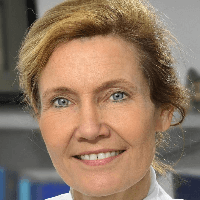 Prof. Dr. med.
Cornelia Dotzenrath
Specialized in: endocrine surgery
About the department
The Department of Endocrine Surgery at the HELIOS University Hospital Wuppertal offers the full spectrum of surgical treatment of the thyroid, parathyroid and pancreatic glands. Here are annually performed more than 800 surgeries on the thyroid and parathyroid glands. The department is one of the first certified Thyroid and Parathyroid Surgery Centers in North Rhine-Westphalia and meets all the requirements of the German Society of General and Abdominal Surgery. The Chief Physician of the department is Prof. Dr. med. Cornelia Dotzenrath.
According to the FOCUS magazine rating, the Chief Physician of the department, Prof. Dotzenrath, ranks among the leading specialists in the field of endocrine surgery in Germany in 2018!
The specialists of the department offer patients both a long-term clinical experience of one of the first Endocrine Surgery Centers (in North Rhine-Westphalia) and advanced medical technologies. For example, parathyroid tissue autotransplantation during the thyroid surgery allows to maintain the parathyroid function and maintain calcium levels within the normal limits, preventing its deficiency.
The department's areas of specialization:
Surgery for benign thyroid diseases

Nodal changes of the thyroid gland without hyperfunction (nodal goiter)
Changes in the thyroid gland with hyperfunction (hyperthyroid goiter)
Graves' disease
Repeated thyroid surgery

Surgery for malignant thyroid changes

Papillary and follicular thyroid cancer
Medullary / C-cell carcinoma
Repeated operations in thyroid cancer
Removal of lymph nodes in thyroid cancer (cervical dissection)

Parathyroid surgery

Primary parathyroid hyperfunction (primary hyperparathyroidism)
Secondary parathyroid hyperfunction due to the decreased kidney function or dialysis (secondary hyperparathyroidism)
Repeated parathyroid surgery

And other diseases of the thyroid, parathyroid and pancreas.
Photo of the doctor: (c) Helios Universitätsklinikum Wuppertal
Department of Endocrine Surgery.
HELIOS University Hospital Wuppertal:

Request more information now.
We will be happy to answer all your questions.
---