HELIOS University Hospital Wuppertal
Department of Vascular Surgery (

384379

)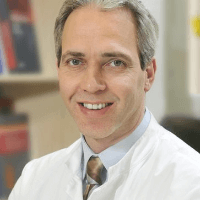 Dr. med.
Ulrich Kusenack
Specialized in: vascular surgery
About the department
The Department of Vascular Surgery at the HELIOS University Hospital Wuppertal offers various treatment options for all vascular diseases. The department specializes in the surgical treatment of vascular stenosis, carotid aneurysms, complications of diabetes mellitus and other diseases. The department is the recognized Vascular Center certified by the German Society for Vascular Surgery. The Chief Physician of the department is Dr. med. Ulrich Kusenack.
The department offers the most sparing treatment for both common "showcase disease" (obliterating endarteritis) and aneurysms of the thoracic and abdominal aorta by means of traditional surgical interventions or stenting. In addition, in order to prevent stroke, the specialists of the department conduct carotid artery treatment: either by surgery or by balloon dilatation or stenting. Particular attention is also paid to lower extremity circulatory disorders caused by diabetes mellitus (diabetic foot syndrome). At the same time, there is maintained active cooperation with the Department of Internal Therapy (Diabetology) and specialists (consultants) on diabetes at the University Hospital Wuppertal.
The service range of the department:
Surgical and interventional (endovascular) placement of cylinders and stents

on the entire thoracic and abdominal aorta (for example, in aortic aneurysm and aortic dissection) without the use of a heart-lung machine
on the pelvic and femoral arteries (bypass surgery, plastic surgery after tumor resection, balloon dilations)
on the carotid artery for the prevention of stroke or in acute stroke

Treatment of acute vascular thrombosis in all locations outside the heart
Interdisciplinary treatment for diabetic foot syndrome
Formation of arteriovenous shunts during hemodialysis (outpatient and inpatient procedures)
Surgical interventions in case of improper function of the implanted shunt
Surgery for varicose veins (within the framework of the interdisciplinary Center for Venous Diseases)
Interdisciplinary treatment of leg ulcers (trophic ulcer)
Vascular diagnosis (Doppler and duplex scanning, conventional and magnetic resonance angiography)
And other vascular diseases
Photo of the doctor: (c) Helios Universitätsklinikum Wuppertal
Department of Vascular Surgery.
HELIOS University Hospital Wuppertal:

Request more information now.
We will be happy to answer all your questions.
---