HELIOS University Hospital Wuppertal
Department of Ophthalmology (

388008

)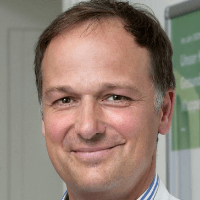 Dr. med.
Ansgar Neusser
Specialized in: ophthalmology
About the department
The Department of Ophthalmology at the HELIOS University Hospital Wuppertal offers diagnostics and treatment of all eye diseases, including cataract, glaucoma, vitreous, retinal diseases, etc. The department has at its arsenal the state-of-the-art medical equipment, which makes it possible to provide the best quality of treatment. The Chief Physician of the department is Dr. med. Ansgar Neusser.
The department offers the full range of both conservative and surgical treatments for all eye diseases. The main focuses include surgery to treat cataract, lacrimal passages, retina, glaucoma, macula, etc. The interventions are mainly performed on an outpatient basis – in a specialized ophthalmologic outpatient clinic.
The service range of the department includes diagnosis/treatment of the following diseases:
Cataract
Retinal detachment
Age-related macular changes
Diabetic retinopathy
Glaucoma
Diseases of the eyelids
Infectious eye diseases
Diseases of the lacrimal passages
Strabismus, amblyopia
Neuro-ophthalmic diseases
And other diseases of the eye and its appendages.
Photo of the doctor: (c) Helios Universitätsklinikum Wuppertal
Department of Ophthalmology.
HELIOS University Hospital Wuppertal:

Request more information now.
We will be happy to answer all your questions.
---