HELIOS University Hospital Wuppertal
Department of Neurology (

389414

)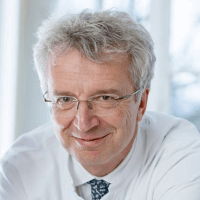 Dr. med.
Gerhard Haas
Specialized in: neurology
About the department
The Department of Neurology at the HELIOS University Hospital Wuppertal offers the full range of services in this medical focus. In addition, the department specializes in the treatment of multiple sclerosis, Parkinson's disease, epilepsy, sleep disorders, spinal cord diseases and other pathologies. The department is headed by Dr. med. Gerhard Haas.
Of particular interest is the treatment of stroke, which is provided in a modern Stroke Unit (16 beds) certified by the German Stroke Society. To effectively treat stroke and prevent its complications, for example, paralysis, speech disorders, the specialists of the department work together, promptly conduct all necessary diagnostic measures and provide optimal medical care. The Stroke Unit is equipped with innovative systems for monitoring blood pressure, heart function, oxygen, blood sugar levels, body temperature and blood flow in the vessels leading to the brain. In the effectiveness of stroke treatment an important role is also played by early rehabilitation.
The diagnosis and treatment of sleep disorders are provided in a large modern Sleep Laboratory, which is shared with the Department of Pulmonology. The laboratory is certified by the German Sleep Society, which guarantees a high level of medical care.
The department's scope of tasks includes the diagnosis of the autonomic nervous system, which controls the vital functions of the heart, circulation and respiration. For this purpose, the department has an autonomous laboratory with an electric bending table, which is used to test various functions of the autonomic nervous system: blood pressure measurement, examination of the heart rate, patient's drowsiness level (papillography), 24-hour blood pressure monitoring.
The range of medical services of the Department of Neurology includes:
Diagnosis and treatment of stroke
Diagnosis and treatment of Parkinson's disease
Diagnosis and treatment of multiple sclerosis
Diagnosis and treatment of epilepsy
Diagnosis and treatment of psychogenic disorders
Diagnosis and treatment of various forms of dementia
Diagnosis and treatment of diseases of the intervertebral discs
Diagnosis and treatment of diseases of the autonomic nervous system
Diagnosis and treatment of spinal cord diseases
Diagnosis and treatment of other neurological disorders
Photo of the doctor: (c) Helios Universitätsklinikum Wuppertal
Department of Neurology.
HELIOS University Hospital Wuppertal:

Request more information now.
We will be happy to answer all your questions.
---