HELIOS University Hospital Wuppertal
Department of Neurology and Epileptology (

389414

)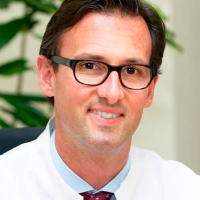 Prof. Dr. med.
Juraj Kukolja
Specialized in: neurology, epileptology
About the Department of Neurology and Epileptology at HELIOS University Hospital Wuppertal
The Department of Neurology and Epileptology at the HELIOS University Hospital Wuppertal provides the full range of medical services to patients suffering from diseases of the nervous system, including epilepsy. The department has a Stroke Unit certified by the German Stroke Society (DSG), which annually provides medical care to about 1,000 stroke patients. The department's medical team also specializes in the treatment of neuromuscular diseases, dementia, Parkinson's disease, multiple sclerosis, dizziness, chronic headaches and diseases of the peripheral nervous system. Patients with neuro-ophthalmic pathologies are admitted in cooperation with ophthalmologists. The department is equipped with advanced diagnostic rooms for a comprehensive examination of the nervous system – they have modern systems for electroencephalography, recording of evoked potentials, electromyography, neurography, Doppler sonography and other diagnostic tests. The treatment is based on pharmacotherapy. The department's doctors have long clinical experience, and therefore they successfully select the optimal treatment regimen that allows the patient to recover as much as possible. The department is headed by Prof. Dr. med. Juraj Kukolja.
The department often admits patients with multiple sclerosis, which is a chronic autoimmune disease that affects the brain and spinal cord. Unfortunately, as of today, the pathology remains incurable, but the department's neurologists have in their arsenal effective treatment regimens that help to achieve stable remission. Without timely treatment, multiple sclerosis can lead to irreversible changes: sensory disorders, vision loss, impaired coordination, and even disability. Since pathology often affects young people, its effective treatment plays an extremely important role in providing the patient with a decent quality of life. The treatment regimen for multiple sclerosis is based on taking medications that correct the immune system. Doctors also often prescribe physiotherapy, therapeutic exercises and massage therapy.
The treatment of Parkinson's disease also occupies an important place in the clinical practice of the medical facility. The main manifestation of a neurological disorder is movement disorders: mobility limitation, limb tremor, involuntary movements of the limbs at rest. In addition, Parkinson's disease causes mental disorders, in particular, a decline in mental abilities. The pathology is progressive. There are no therapeutic methods that could completely relieve the patient of the disease, so the goal of treatment is to alleviate symptoms, improve the patient's overall health and slow the disease progression. To confirm the diagnosis, the department's specialists use such examinations as ultrasound, MRI, neurophysiological tests and DaTSCAN brain scintigraphy. The therapeutic protocol usually includes the use of individually selected medicines, as well as physiotherapy, speech therapy, and occupational therapy.
A special offer of the medical facility is care for patients with neuro-ophthalmic diseases. In collaboration with ophthalmologists, neurologists provide treatment to patients with impaired visual acuity, visual field defects, double vision, oculomotor nerve palsy, nystagmus, etc. To determine the cause of visual impairment and confirm its neurological origin, the department carries out electrophysiological tests, eye movement diagnostics using video-oculography, MRI and CT scans. With the diagnostic results, the specialists plan further treatment.
The team of the department's neurologists also deals with the treatment of epilepsy. The first condition that determines the treatment success is high-quality comprehensive diagnostics. First of all, the attending physician examines the patient's medical history, carries out a clinical examination, after which an electroencephalography is performed to assess the brain electrical activity. Should the diagnosis be confirmed, the attending physician will select the optimal anticonvulsant drug (the intake of several medications at the same time is rarely recommended). The treatment is quite long, and it usually takes 3-5 years or more for the complete disappearance of epileptic seizures. In especially complex clinical cases, brain surgery is recommended, which is performed by neurosurgeons.
The department specializes in the diagnostics and treatment of the following neurological pathologies:
Stroke
Epilepsy
Multiple sclerosis
Parkinson's disease
Dementia
Chronic headaches
Dizziness
Neuromuscular diseases
Neuro-ophthalmic diseases
Polyneuropathy (pathologies of the peripheral nervous system)
Other neurological disorders
The department's range of medical services includes:
Diagnostics

Neurophysiological tests

Electroencephalography (EEG)
Recording of evoked potentials
Neurography
Electromyography (EMG)
Assessment of the state of the autonomic nervous system, including orthostatic test
Video-oculography

Imaging tests

Doppler ultrasonography
Ultrasound scanning
CT scanning
Magnetic resonance imaging

Laboratory tests

Treatment

Lysis therapy and thrombectomy for stroke treatment
Pharmacotherapy
Auxiliary therapeutic methods: physiotherapy procedures, therapeutic exercises, massage therapy, occupational therapy and other types of therapy

Other diagnostic and therapeutic options
Curriculum vitae of Prof. Dr. med. Juraj Kukolja
Higher Education and Postgraduate Training
12.2011 Habilitation, Faculty of Medicine, University of Cologne. Subject: "Pharmacological modulation of episodic memory".
06.2002 Graduation thesis defense, Faculty of Medicine, University of Freiburg. Subject: "Antiepileptic gabapentin (Neurontinâ) as an agonist of ATP-sensitive potassium channels".
10.1995 - 04.2002 Study of Human Medicine at the University of Freiburg, Germany.
10.1999 - 02.2000 Study of Human Medicine at the University of Vienna, Austria.
04.2001 - 02.2002 Internship: Department of Surgery, Victoria Hospital, University of Cape Town, South Africa; Department of Internal Medicine, General Hospital, University of South Florida, Tampa, USA; Department of Neurology, Villingen-Schwenningen Hospital, University of Freiburg.
Professional Career
Since 12.2015 Professor for dementia and age-related nervous system changes.
Since 03.2012 Neurologist (Consultant), Department of Neurology, University Hospital Cologne.
Since 07.2002 Postdoctoral Fellow, Cognitive Neuroscience, Institute of Neuroscience and Medicine at the Research Center Juelich.
10.2011 - 12.2011 Resident, Department of Geriatrics, Hermann Josef Hospital Erkelenz.
03.2008 - 02.2011 Resident, Department of Neurology, University Hospital Cologne.
03.2007 - 02.2008 Resident, Department of Psychiatry and Psychotherapy, University Hospital Bonn.
07.2002 - 02.2007 Intern and Resident, Department of Neurology, University Hospital RWTH Aachen.
Qualifications
11.2014 Neurological Intensive Care Certificate.
12.2014 Certified EEG Instructor.
03.2012 EEG Certificate.
03.2010 Board Certification in Neurology.
Research Interests
Neuropsychology.
Functional magnetic resonance imaging.
Positron emission tomography.
Impaired memory and concentration.
Dementia
Neuro-ophthalmic diseases.
Memberships in Professional Societies
German Society of Neurology.
German Society for Clinical Neurophysiology and Functional Imaging.
Society for Neuroscience.
International Society to Advance Alzheimer's Research and Treatment.
Photo of the doctor: (c) Helios Universitätsklinikum Wuppertal
Department of Neurology and Epileptology.
HELIOS University Hospital Wuppertal:

Request more information now.
We will be happy to answer all your questions.
---
Certificates