HELIOS University Hospital Wuppertal
Department of Nuclear Medicine (

389415

)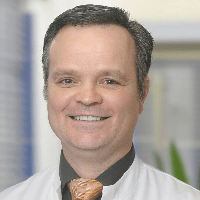 Dr. med.
Marco Tosch
Specialized in: nuclear medicine
About the department
The Department of Nuclear Medicine at the HELIOS University Hospital Wuppertal offers the full range in this medical focus. The main activities of the department include PET-CT diagnostics of oncological diseases, neurological and cardiological diseases, scintigraphy of bones, thyroid gland, kidneys, myocardium, radioimmunotherapy, pain therapy and radioiodine therapy. The department is headed by Dr. med. Marco Tosch.
One of the most important focuses of the department is PET-CT diagnosis, which allows to quickly and accurately determine the location of tumors (primary tumors or metastases) and develop a targeted treatment strategy. PET-CT is also used to detect neurological and cardiac diseases.
The medical team of the department offers high-quality radioiodine therapy for the treatment of benign (for example, goitre, thyroid autonomy, Graves' disease) and malignant (for example, differentiated papillary and follicular thyroid carcinoma) thyroid disorders. Malignant thyroid diseases mostly require surgical removal, while radioiodine therapy acts as an additional type of treatment that the patient undergoes after the operation.
In addition, the department specializes in radioimmunotherapy with Zevalin® in CD20-positive follicular non-Hodgkin's lymphoma. This therapy is used in two cases: relapse or non-Hodgkin's lymphoma, which treatment with antibody therapy was ineffective, or as a consolidation therapy after the first remission.
The department' service range is complemented by pain therapy. Radionuclide treatment is prescribed for patients with osteoblastic bone metastases (for example, in breast or prostate cancer). This therapy is used to improve the quality of life or to reduce the side effects of painkillers.
For the treatment of joint inflammatory diseases, such as chronic polyarthritis, monoarthritis and arthrosis with an additional inflammatory component ("activated arthrosis"), radiosynoviorthesis (RSO) is used. During the procedure, a radioactive substance is injected into the affected joint. As a result of treatment, the patient feels a decrease in inflammation and, consequently, pain relief. In addition, the affected joint is immobilized for a short period of time.
Photo of the doctor: (c) Helios Universitätsklinikum Wuppertal
Department of Nuclear Medicine.
HELIOS University Hospital Wuppertal:

Request more information now.
We will be happy to answer all your questions.
---