HELIOS University Hospital Wuppertal
Department of Neuroradiology (

389419

)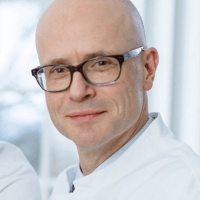 Dr. med.
Thorsten Schmidt
Specialized in: neuroradiology
About the department
The Department of Neuroradiology at the HELIOS University Hospital Wuppertal offers the full range of services in this medical focus. The department specializes in diagnostic imaging examinations of the nervous system and minimally invasive treatment of vascular diseases and brain, spinal cord tumors, including diseases of the meninges. The department is headed by Dr. med. Thorsten Schmidt.
One of the most important focuses of the department is interventional treatment of acute stroke, in which drug therapy is not always effective. In the case of such a clinical situation, there is used a special catheterization method that helps to remove the thrombus and, consequently, to eliminate vascular occlusion. This modern method of stroke treatment is called thrombectomy. It should be noted that this procedure is carried out in the department around the clock.
In addition, in cooperation with the Departments of Neurosurgery, Neurology, Vascular Surgery, Otolaryngology, the following diseases are treated:
Cerebral aneurysm (expansion of cerebral vessels)
Brain arteriovenous malformations
Vascular malformations of the meninges (dural arteriovenous fistulas)
Carotid artery stenosis, vertebral artery stenosis, subclavian artery stenosis, etc.
Intracranial stenosis
Vascular tumors in the head and neck (glomus tumors, hemangiomas)
And other diseases
The department's scope of tasks also includes CT-guided pain therapy (for example, periarticular injections, facet infiltration) and tissue sampling for CT-guided examinations (biopsy).
Photo of the doctor: (c) Helios Universitätsklinikum Wuppertal
Department of Neuroradiology.
HELIOS University Hospital Wuppertal:

Request more information now.
We will be happy to answer all your questions.
---