HELIOS University Hospital Wuppertal
Department of Interventional Radiology (

458687

)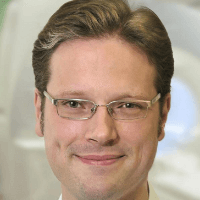 PD Dr. med.
Lars Kamper
Specialized in: interventional radiology
About the Department of Interventional Radiology at HELIOS University Hospital Wuppertal
The Department of Interventional Radiology at the HELIOS University Hospital Wuppertal offers diagnostics and treatment of a wide range of diseases with the help of imaging-guided minimally invasive methods. The department specializes in interventional oncology, treatment of peripheral arterial occlusive disease, diseases of the digestive system, central nervous system, respiratory system, etc. The department has state-of-the-art equipment, including radiography, ultrasound, MRI and CT systems. The department is headed by PD Dr. med. Lars Kamper.
When performing interventional radiological procedures, the surgeon inserts very thin catheters into the blood vessels or other organs through special wire conductors, which are used to deliver instruments or medicines to the affected organ or site. The procedure is performed with imaging guidance using digital subtraction angiography, fluoroscopy, CT, ultrasound and MRI. This eliminates the need for large cutaneous incisions and long-term inpatient treatment – the patients of the department benefit from the most sparing, effective treatment and speedy recovery process and return to normal life.
The service range of the department covers the following options:
Diagnosis and treatment of arteries and veins of all parts of the body
Minimally invasive treatment of peripheral arterial occlusive disease by lysis (dissolution) of thrombi, balloon dilatation (percutaneous transluminal angioplasty), implantation of short stents and removal of fresh blood clots
Correction of vascular shunts for hemodialysis
Vascular ablation (in bleedings) vascular malformations and ablation of tumor-feeding blood vessels
Implantation of venous stents in superior vena cava syndrome due to cancers and effects of irradiation
Implantation of the inferior vena cava filters in case of pulmonary thromboembolism
Other treatments
The department offers treatment of the following organs and body systems:
Digestive system (intestines, liver, stomach)
Central nervous system (brain and spinal cord)
Respiratory system (lungs, respiratory tract)
Cardiovascular system (arteries, veins, heart)
Musculoskeletal system (bones, joints, spine)
Genitourinary system (genitals, kidneys)
Other diagnostic and therapeutic options (for example, biopsy of all organs and tissues)
Photo of the doctor: (c) Helios Universitätsklinikum Wuppertal
Department of Interventional Radiology.
HELIOS University Hospital Wuppertal:

Request more information now.
We will be happy to answer all your questions.
---
Certificates