Diagnostic tests for testicular torsion (program ID:

607648

)
Hirslanden Andreasclinic Cham Zug Cham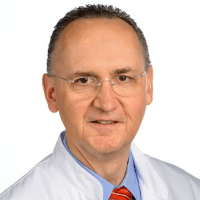 Head Physician
Dr. med.
Heinrich Gretener
Specialized in: urology
Department of Urology
Program includes:
Initial presentation in the clinic
clinical history taking
general clinical examination
laboratory tests:

complete blood count
clinical urine test
kidney function test (creatinine, urea)
blood coagulation analysis (aPTT, PT, INR)
inflammation indicators (CRP, ESR)
complete hormonal analysis
tumor markers

​abdominal and pelvic ultrasound
prostate and testicular transrectal examination
CT scan (on indication 650 €)
MRI scan (on indication 1200 €)
nursing services
consultation of related specialists
consultation of the chief physician and all leading experts
development of individual treatment plan
written statement
Required documents
Medical records
Scrotal ultrasound (if available)
Service
Price:
Type of program :
Expected duration of the program:
You may also book

Price:
About the department
The Department of Urology at the Hirslanden Andreasclinic Cham Zug Cham provides the full range of modern diagnostic tests, conservative and surgical treatment of diseases of the genital organs in men, as well as pathologies of the urinary system in men and women. The department is headed by Dr. med. Heinrich Gretener.
The department has modern equipment for endoscopic and robot-assisted (da Vinci) interventions that allow the patient to recover as soon as possible after treatment completion. The examination is carried out in collaboration with the Department of Diagnostic and Interventional Radiology (radiography, ultrasound, CT, MRI). Thus, the department's team of doctors has all the necessary resources for conducting first-class treatment according to the very latest medical standards.
The department specializes in the diagnostics and treatment of the following diseases:
Prostate cancer
Benign prostatic hyperplasia
Kidney tumors
Bladder tumors
Kidney stone disease
Inflammatory processes in the kidneys, bladder, prostate gland, epididymis
Urethral stenosis
Erectile dysfunction
Infertility in men
Other urological pathologies
The therapeutic options of the department include:
Prostate interventions

Transurethral resection of the prostate
Transurethral enucleation of the prostate
Radical prostatectomy (also using robot-assisted techniques – da Vinci)

Removal of bladder tumors

Transurethral resection of the bladder
Open surgery

Removal of kidney tumors and kidney stones

Minimally invasive techniques
Percutaneous nephrolithotripsy

Removal of ureteral stones

Minimally invasive techniques
Ureterorenoscopy

Removal of testicular tumors
Treatment of inflammatory processes of the testicles and epididymides
Treatment of hydrocele, varicocele
Treatment of testicular torsion
Treatment of urethral stenosis

Endoscopic techniques
Open surgical techniques

Circumcision (partial or total)
Penile curvature correction
Vasectomy (a minimally invasive method without using a scalpel)
Other therapeutic services
Curriculum vitae
Clinical Interests
Diagnostics, treatment, prevention and rehabilitation for diseases, malformations and injuries of the urinary system in men and women, male genital organs, hormonal disorders in men (andrology).
Prostate cancer screening in men.
Vasectomy in men who do not plan to have children in the future.
Ultrasound diagnostics of the genitourinary system.
Professional Career and Education
2002 - 2006 Chief Physician of the Department of Urology at the Cantonal Hospital Aarau.
2002 Board certification (European standard).
2001 Board certification in Urology, Swiss Medical Association (FMH).
1999 Doctoral thesis defense, University of Zurich.
1998 - 2002 Work in the Department of Urology, University Hospital Zurich.
1996 - 1997 Work in the Department of Urology, Cantonal Hospital Lucerne.
1993 - 1996 Work in the Department of Surgery, Cantonal Hospital Lucerne, Department of Pediatric Surgery at the Clinic Largiadèr Kantonsspital Luzern, Department of Urology at the Clinic Schärli Kantonsspital Luzern.
1991 - 1993 Work in the Department of Surgery at the Clinic Zieglerspital Bern.
1991 American State Examination of the Educational Commission for Foreign Medical Graduates (ECFMG), Philadelphia, USA.
1990 State Exam in Medicine, Switzerland.
1989 Internship, Harvard Medical School, Boston, USA.
1984 - 1989 Study of Human Medicine at the University of Bern.
Memberships in professional Societies
Swiss Society of Urology (SGU).
Swiss Society of Ultrasound in Medicine (Section of Urology).
European Association of Urology (EAU).
European Board of Urology (EBU).
Photo of the doctor: (c) Hirslanden AG
---
About hospital
Accommodation in hospital
Testicular torsion
Program [Description]
Diagnostic tests for testicular torsion
Hospital: Hirslanden Andreasclinic Cham Zug Cham
Type:
Duration:
Price:
date_range
There are 89 testicular torsion diagnostic hospitals on Booking Health website
Show all clinics