Treatment of cervical spinal disc herniation with discectomy and intervertebral disc prosthesis (program ID:

397045

)
Hirslanden Clinic am Rosenberg Heiden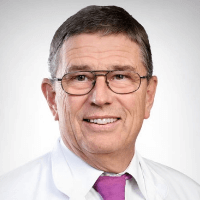 Head Physician
Dr. med.
John-Christopher Ward
Specialized in: spinal surgery
Department of Spinal Surgery
Program includes:
Initial presentation in the clinic
clinical history taking
review of medical records
physical examination
laboratory tests:

complete blood count
general urine analysis
biochemical analysis of blood
inflammation indicators (CRP, ESR)
indicators blood coagulation

neurological examination
functionality x-ray of the spine
CT/MRI scan of the spine
neuropsychological tests (on indications):

ENMG (electroneuromyography)
SEPs (somatosensory evoked potentials)

preoperative care
discotomy and joint replacement of intervertebral disc
postoperative control
symptomatic treatment
control examinations
the cost of essential medicines and materials
nursing services
full hospital accommodation
developing of further guidance
Required documents
Medical records
X-ray of the cervical spine (if available)
MRI/CT scan of the cervical spine (if available)
Service
Price:
Type of program :
Expected duration of the program:
You may also book

Price:
About the department
The Department of Spinal Surgery at the Hirslanden Clinic am Rosenberg Heiden provides the full range of effective surgical treatment of spinal injuries and diseases, including quality postoperative care. The clinical practice is mostly focused on minimally invasive procedures, which ensure the speedy recovery of patients. The long successful experience of the department's doctors allows them to competently combine treatment methods for the achievement of optimal results. The department's medical team specializes in the treatment of injuries and diseases of all regions of the spine – from the cervical to the sacrococcygeal. The department is headed by Dr. med. John-Christopher Ward.
The key attention in the department is paid to the treatment of herniated discs in the lumbar and cervical spine, pain syndromes in degeneration of the intervertebral discs, spinal stenosis, spondylolisthesis, facet syndrome, facet joint arthrosis, spondylarthrosis and osteoporotic vertebral fractures.
The department's range of medical services includes:
Minimally invasive treatments

Facet joint block for diagnostic and therapeutic purposes
Spinal root block for diagnostic purposes
Provocative discography
Percutaneous disc nucleoplasty
Epidural spinal cord block
Percutaneous sympathetic blockade
Percutaneous radiofrequency sympathectomy
Vertebroplasty
Implantation of electrodes and pulse generators for spinal cord stimulation

Open surgical techniques

Microsurgical interventions on the intervertebral discs
Microsurgical operation to eliminate spinal stenosis
Fusion of separate vertebrae in case of spinal instability
Dynamic stabilization
Intervertebral disc prosthetic repair surgery

Other therapeutic options
Curriculum vitae
Professional Career
Since August 2006 Work in the Department of Spinal Surgery at the Hirslanden Clinic am Rosenberg Heiden.
July 1999 - July 2006 Partner Physician in Orthopedics, Hirslanden Clinic am Rosenberg Heiden and Hospital St. Gallen.
November 1998 One-month internship at several Spine Surgery Centers in North America.
1997 One-month internship at the Department of Spinal Surgery, Queen's Medical Center, University of Nottingham.
April 1995 - June 1999 Senior Physician, Department of Orthopedic Surgery at the Cantonal Hospital St. Gallen.
July 1992 - March 1995 Assistant Physician in the Department of Orthopedic Surgery at the Cantonal Hospital St. Gallen.
Higher Education and Postgraduate Training
February 1995 Board certification in Orthopedic Surgery.
February 1995 Doctorate, University of Bern.
1984 - 1995 Work as an Assistant Physician in Ospedale Bleniese, Ospedale San Giovanni, Cantonal Hospital St. Gallen.
1984 State Examination in Medicine, University of Basel.
Memberships in Professional Societies
Swiss Society of Orthopedics (SGO).
Association of Orthopedic Physicians of East Switzerland (CCA).
Founding Member of the Swiss Society for Spinal Surgery (SGS).
Founding Member of the International Society for Fracture Repair.
Swiss Medical Association (FMH).
Medical Association of the Canton of St. Gallen.
Medical Association of St. Gallen.
Photo of the doctor: (c) Hirslanden AG
---
About hospital
Accommodation in hospital
Cervical spinal disc herniation
Program [Description]
Treatment of cervical spinal disc herniation with discectomy and intervertebral disc prosthesis
Hospital: Hirslanden Clinic am Rosenberg Heiden
Type:
Duration:
Price:
date_range
There are 92 cervical spinal disc herniation treatment hospitals on Booking Health website
Show all clinics