Hirslanden Clinic Belair Schaffhausen
Department of Urology (

194

)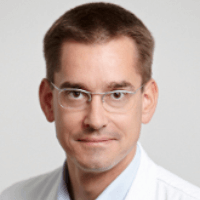 Dr. med.
Claudius Möckel
About the Department of Urology at Hirslanden Clinic Belair Schaffhausen
Our urological center mainly deals with the following diseases: stone disease, tumors, infections, incontinence, infertility, impotence. Trusting and discreet conversations and consultations are particularly important here: our experts will gladly pay you special attention and will be the most sensitive and tactful during the treatment process. We attach great importance to a thorough and painless diagnosis. You will be offered a wide range of conservative and surgical treatment methods (medication, physical therapy, minimally invasive surgery), which can often be performed on an outpatient basis. If you need a surgery, we have the most modern and minimally invasive techniques for tissue-sparing treatment.
Curriculum vitae of Dr. med. Claudius Möckel
2007 Zentrum für Urologie Zürich, Dres. med. Bauer / Fehr / Möckel Spezialist für minimalinvasive Diagnostik ( MRI-gesteuerte Prostatapunktionen ) und Andrologie
2001 - 2007 Assistenzarzt Katharinenhospital Stuttgart, Urologische Klinik
2006 Facharzt für Urologie
2002 Promotion
2000 - 2001 Arzt im Praktikum West Suffolk Hospital, Bury St. Edmunds u. James Paget Hospital, Great Yarmouth
1999 Staatsexamen
1994 - 1999 Medizinstudium, Universität Essen
1991 - 1992 Biologiestudium, Universität Karlsruhe
1984 - 1992 Medizinstudium, Semmelweis Universität Budapest, Ungarn
Photo of the doctor: (c) Hirslanden AG
Department of Urology.
Hirslanden Clinic Belair Schaffhausen:

Request more information now.
We will be happy to answer all your questions.
---
Certificates